Posts Tagged TiE Inflect 2018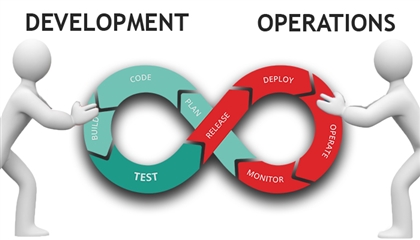 After Agile and Waterfall, recent red hot trend in creating optimum software engineering culture in organizations, has been DevOps. DevOps is about unifying software development and operations and aligning it with shared business and product objectives. Creating smoothly functioning DevOps culture helps organizations shorten development cycles and ensure dependable and timely releases.
With DevOps enabling real-time visibility in every layer of software construction, the risk of rapid innovation is reduced as communication barriers are dissolved between teams and feedback loops are shortened. Objective single source data through shared dashboard reduces finger pointing. Companies that have not yet adopted DevOps, increasingly feel the pressure to do so. However, when companies seek to adopt DevOps, they also face challenges.
Creating a smoothly functioning DevOps culture, requires creating an optimum environment for the shift in mindset to take hold and enabling a smooth transition process through soft and hard skills training.  Traditionally, goals of Development and Operations are not aligned and handovers between different teams are costly and time consuming. A company seeking to adopt DevOps culture, needs to overcome this mentality and create product aligned team culture, away from project based culture. This is a major mindset shift that may require restructuring in staff and reporting lines, in addition to skills based training. While there is high barrier to entry with microservices, the move to automation and continuous delivery is facilitated by replacing or changing older legacy infrastructure to microservices architecture.
In any organization but more so in one seeking to adopt DevOps culture, people on the team are going to be the most important resources, for a smooth transition. Adopting newer tools may be effective only to the extent that staff receives training to use them and the tools are well integrated with the existing infrastructure.  A shift in culture must be gradual and include change management training to help people embrace the change. It will be easier to bring Dev and Ops teams on board to adopting newer tools if the focus is moved away from personalities and preferences to broader picture and larger, overarching goals of the company.  While the change may be scary at first, adoption may be smoother with objective data and feedback loops from small scale deployments and other teams to see the benefits of it working in real time.
Exciting track at TiE Inflect 2018, the largest entrepreneurship conference to take place in May at Santa Clara Convention Center, CA, will feature VCs and industry leaders discussing trends, opportunities, and strategies to deal with challenges. Entrepreneurs with eyes towards innovation in DevOps will also get to do a deep dive in the Startup bootcamp, and may learn to become investor ready, learn to effectively network and maximize visibility, and fine tune presentations and pitches. Register for the conference at www.tieinflect.org .
In software engineering culture, unifying software development and software operation is gaining great momentum. Automation and monitoring at all steps of software construction from integration, testing, releasing to deployment, and infrastructure management, DevOps shortens development cycles, ensures more dependable releases and is more closely aligned with business objectives. Recent M&A activities of DevOps companies like AppDynamics and Automic Software and $100M+ investments in DevOps solution providers like UIPath,, XebiaLabs and Tricentis points to the red hot market, ripe of entrepreneurial innovation.
VCs have clearly embraced this transformation in culture and processes as a more efficient organizational culture for development and deployment practices.  But as yet, DevOps sector is in the early phase. There will be incredible new opportunities for entrepreneurs in this sector, in the next few years. A panel of industry leaders will discuss and opine on new opportunities for entrepreneurs, at TiE Inflect 2018. Register for the largest entrepreneurship conference with exciting tracks in Blockchain, FinTech, DevOps, HealthTech, CyberSecurity, MarTech and more to take place in in May, in Santa Clara, CA  at www.tieinflect.org .
Invented by Satoshi Nakamoto in 2008 for use in the cryptocurrency bitcoin, blockchain enabled first digital currency without the need of a trusted central authority and has since inspired many other applications and has emerged as a major area of focus for entrepreneurs. According to Patrick M. Byrne, "The main event isn't bitcoin. It's using blockchain to disrupt other industries and Wall Street".
So what exactly is blockchain and what kind of potential it holds?  Blockchain refers to continuously growing list of records called blocks that are linked and secured using cryptography and each block contains timestamp and transaction data that cannot be modified. So the transaction details are permanent and unalterable. This removes the need for verification by independent third party and a blockchain can be managed by peer to peer network.
Blockchain technologies enable confident transactions and deliver value in payments, settlements and securities processing by rendering all transactions safer, faster, cheaper, secure and transparent.  In the words of William Mougayar, "The blockchain symbolizes a shift in power from the center to the edges of the networks". This technology will drive benefits for transecting individuals and institutions and will impact nearly all major industries. If you are an entrepreneur, you won't want to miss Blockchain track at TiE Inflect 2018 and learn from the best minds on challenges and opportunities inherent in this technology.  Register for the conference at www.tieinflect.org .