Posts Tagged Steve Carell
Producer Adam McKay's VICE explores the epic story about how a bureaucratic Washington insider, Dick Cheney (Christian Bale), quietly rises to become the most powerful man in the world as Vice-President to George W. Bush (Sam Rockwell), reshaping the country and the globe with far reaching and long lasting impact to future generations. VICE is a film that matches McKay's wildly original "The Big Short" about three years back.
While VICE is both angry and informative like it's predecessor "The Big Short", unlike the predecessor, VICE does not share implementable insights for ordinary folks. VICE has opened to some mixed reviews and so I will mention and acquiese to the criticisms first. At times VICE feels disjointed as it jumps between time periods, interspersed with wacky methaphors. It also becomes apparent very early that McKay's concern with telling Cheney's story or the story of the country and the world that Cheney impacted, pales in comparison to McKay's anger towards us, the audience. We, the citizens are reproached for having greater interest in entertainment than in the affairs of the government, things that "really" matter. This is where he begins the story and that is where he ends and given what is happening in the country today, I would forgive McKay for blaming the citizens.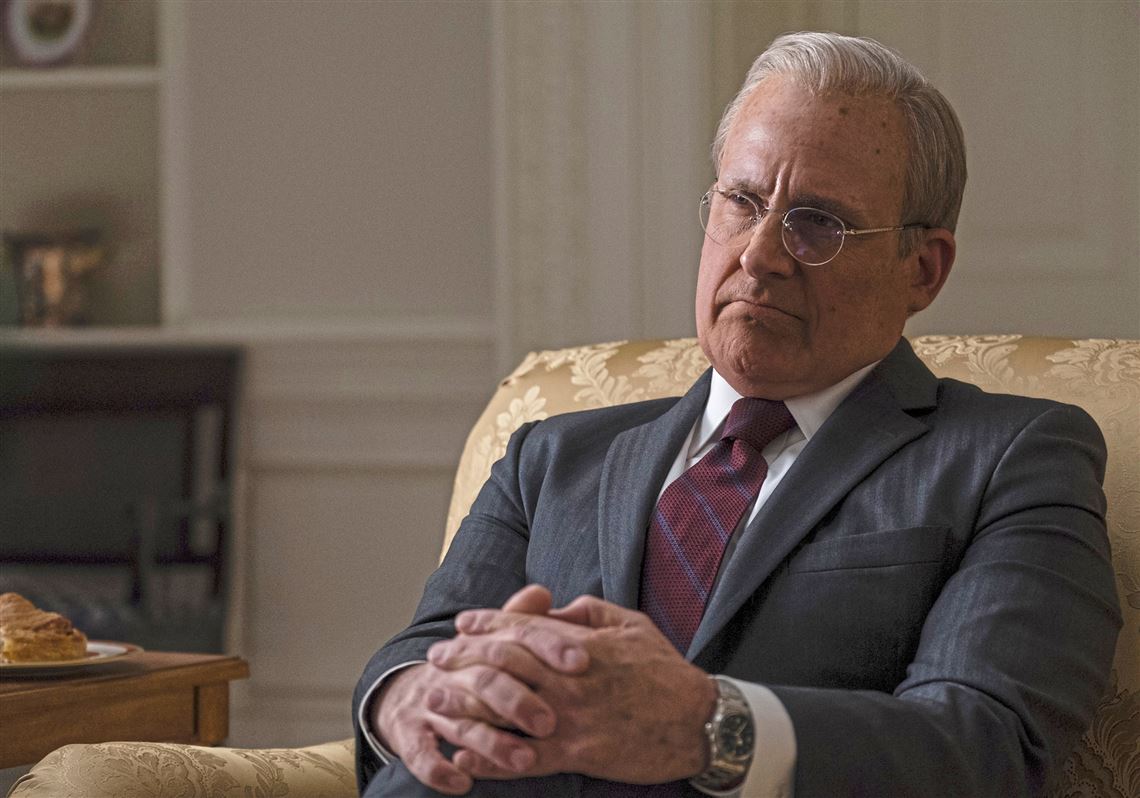 In VICE, McKay has a formidable challenge. As the film shows Cheney's rise to power, it also weaves in years' of political history of the country.  The forces that shaped the climate and allowed Cheney to consolidate his power, began long before Cheney came on the political scene in any serious manner.  In fact, McKay traces the conservative forces shaping the political climate in the country, all the way to 1980s. And as he goes through Reagan and Senior G.H.W. Bush years, Cheney is shown to be going through his own transformation. At first, a good for nothing "dirtbag", aided and supported by his ambitions wife, Lynne (Amy Adams), Cheney focus on amassing power and fortune.  It is from Donald Rumsfeld (Steve Carell), Cheney got earlier lessons in looking at Washington as a ruthless, zero sum political place where winners displace losers and policy takes a backseat to power.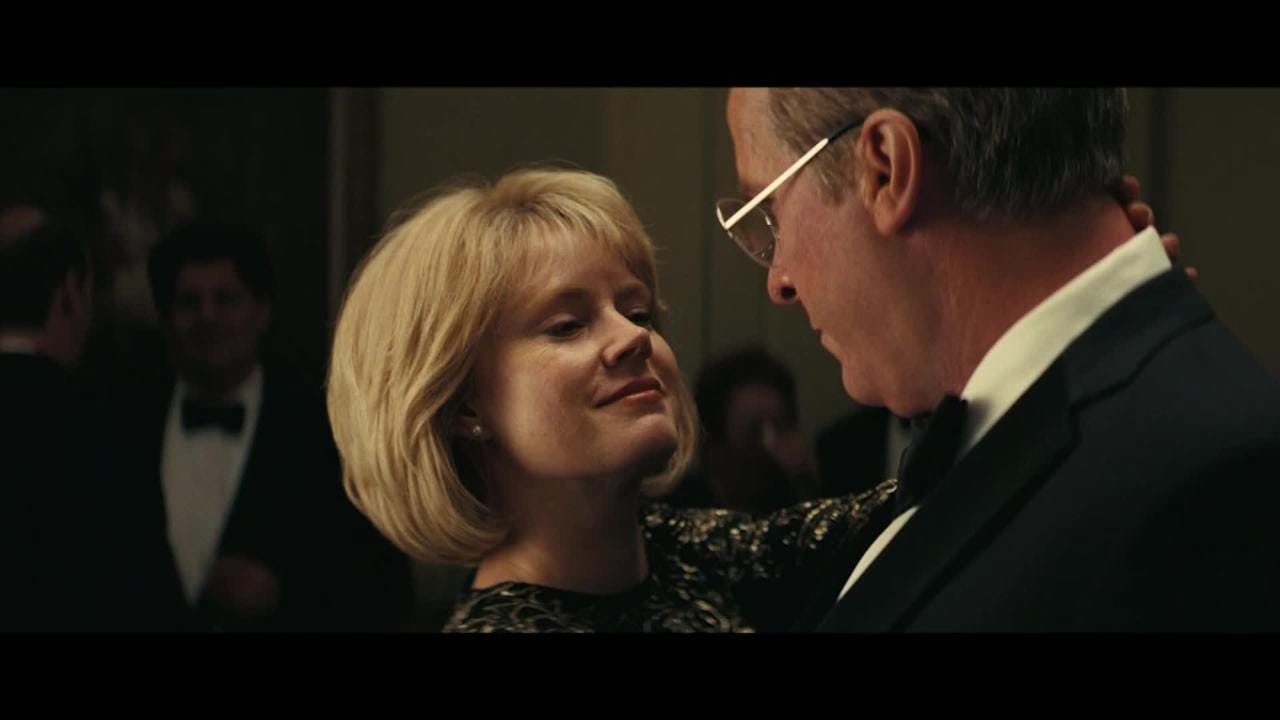 Cheney began his political career as an intern to a Congressman and then worked his way into the White House during Nixon and Ford administrations. He served as Secretary of Defense to George H.W. Bush. He was out of the political scene during Clinton years, when he assumed the role of Chairman and CEO of Halliburton Company. In 2000, Cheney was chosen by George W. Bush,  as his running mate and has been cited as the most powerful Vice President in American history. McKay telling the story of how Cheney rises to this level and then consolidates his power is nothing short of amazing.  Using the fly fishing metaphor, McKay shows how Cheney put a small hook and then gradually draws in his prey. Even as he dies several times, mostly politically, but also endures several heart attacks, Cheney comes back, with more powerful lessons on consolidating power, strongly aligned to the brand of conservatism that seems only to consume, even if it destroys future generations.
Latching on to an obscure theory, propelled by some conservative judges like (Scalia), and made popular by the conservative media, Cheney finds panacea to all political challenges that stand in his way of consolidating his power, in Unitary Executive Theory. Rooted in Article Two of the US Constitution, the theory vests "the executive power" of the United States in the President. Though broadly accepted, it is assumed to be circumscribed by some boundaries of strength and scope. In the aftermath of 9/11, Cheney took advantage of the public anger and sentiment to "do something" and vastly expanded the strength and scope of the power of the President. By his own agreement with the President, Cheney then had the unilateral power that he used for wiretapping by the National Security Agency (NSA) and the enhanced interrogation techniques that included waterboarding, among other things.  Cheney is said to have said, "We need to think in a new way about these low-probability, high-impact events; If there's even a 1 percent chance that WMD have landed in the hands of the terrorists, we need to treat it as a certainty".  He masterminded the pressure on naysayers in the Bush Cabinet, including Condoleezza Rice (LisaGay Hamilton) and Colin Powell (Tyler Perry). Despite no clear evidence of WMD, Powell was pressured to give a speech in the UN regarding strong evidence of WMD which he later described as his most painful moment of his political career.
Despite the fact that none of the 9/11 terrorists came from Iraq, the United State's war on Iraq eventually cost 189,000 direct war deaths, nearly 5000 deaths of U.S. service personnel, in addition to 32,000+ troops coming back with injuries, not including PTSD.  US spent over $1.7 Trillion in this war. Nearly, 134,000 Iraqi civilians lost their lives in this war and 655,000 people who have died in Iraq since the invasion that would not have died if the invasion had not occurred.
So what did we gain from the Iraq war?  Who gained from the war, if not the Iraqi civilians or the American citizens?
Contractors, primarily Halliburton company has reaped over $140 billion from US invasion of Iraq. In the end, the movie will leave you feeling both deeply sad and angry. Cheney's brand of conservatism, his generation of mostly while males, stole from the future to enrich themselves. (Certainly not saying that all while men are evil and in fact it is with the support of dedicated men and women, white and black, that our country will always face the challenges head-on and after the challenges, will always emerge better and stronger). The cascading impact of actions of Cheney, Rumsfeld and others, very likely threw the country into a deep recession and eventually impacted lives of several future generations. AND HERE IS WHERE I HAVE A MESSAGE FOR MCKAY. Not it is not the concern with entertainment that keeps the citizens busy and unconcerned with what goes on. It is not even boredom with tiresome facts that are not revealed all at once. It is our preoccupation with making ends meet, with getting two square meals on the table for the families, that keeps us so woefully unprepared for devilish machinations of our elected leaders.

VICE is a not-to-miss movie of this holiday season. The film has received several Golden Globe awards and numerous nominations. It is great entertainment along with powerful history lesson for free. On a scale of 1 to 5 with 5 being excellent, I rate the movie as 4.9.
The movie directed by Bennett Miller, from a script written by E. Max Frye and Dan Futterman, is based on actual grim events, surrounding the story of eccentric multi-millionaire John du Pont's life.  Award winning and nominated cast includes Steve Carell, Channing Tatum, Mark Ruffalo, Sienna Miller, and Vanessa Redgrave.
Although painfully slow in the beginning, the movie slowly builds a rhythmic air of suspense.  John du Pont (Carell) is desperate to gain the respect of his stern, disapproving mother and begins coaching an olympics-worthy team of wrestlers.  Among his early recruits is Mark Schultz (Tatum), a former Olympian, going through a rough time and living in circumstances of dire poverty.  For du Pont, as may be the case with SOME super wealthy people, riches are not enough, he wants his team to win and he seeks to get immortalized in history.
Du Pont wants to bring in Mark's brother, Dave Schultz (Ruffalo) to coach his team, but Dave refuses to uproot his family and join him.  At first, it is Mark who joins du Pont on his estate and becomes his new "best friend".  Underneath immense wealth, Du Pont's is a life of loneliness and despair and possibly of extreme ups and downs, resulting from his mental illness.  Du Pont buys his friend, expensive things, also lures him into his drug habits, and confides to Mark that while growing up, his only best friend was the son of his mother's chauffeur and when he turned 16, he found out "my mother was paying him to be my friend".
Ultimately, du Pont does manage to lure Dave to come and work at Foxcatcher Farm.  Carrel's performance is so low key crazy-like, that a sense of dread is already beginning to seep in the film and you almost hope that something would make Dave leave du Pont.  At this point, Mark is already disappointed, has fallen out with du Pont, and leaves the Foxcatcher farm.
When the violence comes, even though we know the events as they unfolded, it makes you feel incredibly sad, not only because there is no reason for it and it is totally incomprehensible, but deeply loving, loyal family man is the last person you want to see being hurt.  This is also a story of deep brotherly love.  Upon seeing the movie, Mark Schultz recalled that when he first received the news of his brother's death, miles away, he trashed his office in anger and spent weeks in mourning for his brother.
The film struck a chord for me because I have an experience with highly eccentric person, in my multi-generational, extended family network.  The tragedy is that he is immensely wealthy, and therefore gets away with incredible number of insane actions that ordinarily people would not get away with.  It seems, society gives a very long rope to someone with wealth and power at their disposal, to behave crazy, ruthless, mean, mad, and sometimes to do things that are immoral or illegal.
Unfortunately, the movie misses an opportunity to invoke any ideas beyond portraying real-life events.  Especially given that this story had extremely lethal combination of immense wealth and slow burning mild insanity, along with Mark du Pont's relationship with political extremists, it would have provided a perfect platform for further exploration.  It is nevertheless a fascinating story with excellent acting, and based on my rating of 1 to 5 with 5 being excellent, I rate the movie as 4.6.