Posts Tagged startup
"How can we make user experience like flushing a toilet", rhetorically questions Silicon Valley startup CEO, Mike Jordan (Barnaby Falls), in Anush Moorthy's play "Unicorns", a satire on modern era startups. It's a perfect script to be presented without the elaborate set, costumes, or lights, to a small, intimate gathering of Silicon Valley audience. The play was performed on second stage at Mountain View Center for Performing Arts, by NAATAK company which has won for three years in a row in 2015, 2016, and 2017, the San Jose Mercury News Reader's Choice Award, for "Best Live Theatre in Silicon Valley".
Unicorns traces an engineer's journey as he joins Oberherr, a high valuation startup. Paranoid Silicon Valley culture has made it imperative for Oberherr, to be extremely secretive regarding their products and offerings. In the absence of talking about their products, in order to get noticed before the big launch and the IPO, the company banks on heavy use of buzzwords. Mike often says, "at Oberherr, we imaginate, innovate, ideate". Dressed in the style made fashionable among high achievers by  Apple's former boss, Steve Jobs, in black turtleneck and blue jeans, Mike insists, their engineers "create things from nothingness".
The company has eliminated desks to enable free flow of thinking and interaction and employees are forbidden to talk about the company, outside its premises. And then there is a palpable omnipresence of the board (Havish Ravipati) keeping a tight focus on the impending IPO. All this paranoia and cutthroat mentality has created interesting dynamics at Oberherr. While Radhika (Tannistha Mukherjee) is highly territorial and least helpful to newbies, her accomplishments go unnoticed in supposedly "egalitarian" workplace, dominated by men.  Ramanathan (Natraj Kumar) has learned to get noticed by sucking up to Mike, and Robin (Rohit Mukherjee) stays out of trouble by staying focused on his laptop. Sahil (Varghese Muthalaly) is fabulous in his role as a new engineer joining Oberherr whose fortune rises and tumbles at the blink of an eye. Sahil shares a healthy camaraderie with a fellow software engineer, Joyce (Aparna Warrier) but couldn't explain even to his wife Priya (Preeti Bhat) about company's products.
As seen from a few recent debacles, (one of the prominent one being Theranos) there are interesting shortcomings in the hyped up Silicon Valley startup culture.  The focus on speed and short term gains, at the expense of long term vision and value-add of its offerings is often proportionately correlated with diminishing concern for people, true teamwork and quality of life. People become pawns in a system when stretching the truth isn't just overlooked but sometimes admired, in quest for world domination and mad rush to IPOs.  Unicorns by NAATAK is a fantastic spoof on the Silicon Valley startup culture. This is a not-to-miss play of this theater season in the bay area. Tickets may be available at www.naatak.com .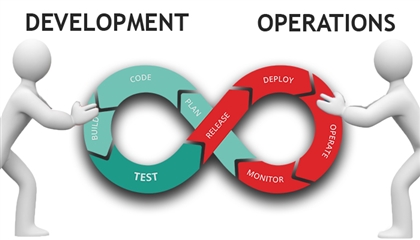 After Agile and Waterfall, recent red hot trend in creating optimum software engineering culture in organizations, has been DevOps. DevOps is about unifying software development and operations and aligning it with shared business and product objectives. Creating smoothly functioning DevOps culture helps organizations shorten development cycles and ensure dependable and timely releases.
With DevOps enabling real-time visibility in every layer of software construction, the risk of rapid innovation is reduced as communication barriers are dissolved between teams and feedback loops are shortened. Objective single source data through shared dashboard reduces finger pointing. Companies that have not yet adopted DevOps, increasingly feel the pressure to do so. However, when companies seek to adopt DevOps, they also face challenges.
Creating a smoothly functioning DevOps culture, requires creating an optimum environment for the shift in mindset to take hold and enabling a smooth transition process through soft and hard skills training.  Traditionally, goals of Development and Operations are not aligned and handovers between different teams are costly and time consuming. A company seeking to adopt DevOps culture, needs to overcome this mentality and create product aligned team culture, away from project based culture. This is a major mindset shift that may require restructuring in staff and reporting lines, in addition to skills based training. While there is high barrier to entry with microservices, the move to automation and continuous delivery is facilitated by replacing or changing older legacy infrastructure to microservices architecture.
In any organization but more so in one seeking to adopt DevOps culture, people on the team are going to be the most important resources, for a smooth transition. Adopting newer tools may be effective only to the extent that staff receives training to use them and the tools are well integrated with the existing infrastructure.  A shift in culture must be gradual and include change management training to help people embrace the change. It will be easier to bring Dev and Ops teams on board to adopting newer tools if the focus is moved away from personalities and preferences to broader picture and larger, overarching goals of the company.  While the change may be scary at first, adoption may be smoother with objective data and feedback loops from small scale deployments and other teams to see the benefits of it working in real time.
Exciting track at TiE Inflect 2018, the largest entrepreneurship conference to take place in May at Santa Clara Convention Center, CA, will feature VCs and industry leaders discussing trends, opportunities, and strategies to deal with challenges. Entrepreneurs with eyes towards innovation in DevOps will also get to do a deep dive in the Startup bootcamp, and may learn to become investor ready, learn to effectively network and maximize visibility, and fine tune presentations and pitches. Register for the conference at www.tieinflect.org .
Written by Michael Golamco, "Build" is CityLights' Executive Artistic Director, Lisa Mallette's yet another bold venture aimed to bring thematically relevant plays to the Silicon Valley audience.  Set in the heart of Silicon Valley, in Palo Alto, CA, this is a story about — what else? A startup! And what could be more hot than a video gaming company?
I am going to skip a more typical review with detailed plot description, in favor of giving you a glimpse of the future envisioned in this production.  To give a little background of the plot, Kip (George Psarras) and Will (Max Tachis) had earlier conceived a brilliant game that resulted in a grand success, leading to what appears to be a milestone based buyout deal.  Unlike Will, dapper and immaculate, Kip, the creative genius, with disdain for money, and for following procedures, and grave dislike for documenting details to make hand off of work easier for others, has a harder time with monetary success, fast cars, suits and board and shareholder meetings.  Kip spends his days cloistered in his home mourning the loss of his late wife, and has abandoned social life, in favor of staying indoors, in his cluttered apartment, working on his next big project; only this time to give it away via open source and cloud.  And who else to keep him company but an "artificially intelligent" being, an AI robot, oddly resembling his late wife Allison (Morgan Voellger).
If you think that it might be too far fetched, think again.  Sometime back, IBM's AI computer, Watson made history when it appeared on Jeopardy, the popular game show beat most of the contestants http://bit.ly/JOZmwH .  Watson is a computer system, capable of answering questions posed in natural language.  This is no small feat.  Human language is infinitely complex.  That alone makes for a huge challenge in building an artificially intelligent, interactive being.  Puns, idioms, and other contextual expressions, and even the tone of voice http://bit.ly/17FvMmW  and a pause at a different place in a sentence, can completely alter the meaning.  In medicine, AI computer like Watson is expected learn the nuances of the language to offer complex diagnosis, and even indicate the level of confidence it has in the diagnosis offered.
In "Build", Kip's AI being is keenly aware of her identity "16 terabytes of data".  But she is far superior than any ordinary machine and he has built it in human avatar.  The robot takes on Allison's personality, even the loneliness Allison experienced when she was married to Kip and Kip was occupied with his gaming venture.  This AI machine made out of code is incredibly smart (beats Kip in the word game they play), is intuitive and curious, and even talks about her dreams.  When Will discovers Kip's secret AI being, he is both astounded and concerned that Kip will forever stay a prisoner of his home, as long as he has the companionship offered by the robot.  Along with this ulterior motive, Will also has fond memories of Allison and is mesmerized by Allison-like-robot.
This is not stuff of idle imagination.  Elon Musk, Stephen Hawking and Bill Gates have all said that we should be concerned about the future of artificial intelligence.  Louis Del Monte, an entrepreneur, has said that some day, machines could surpass humans and could become the most dominant species, and Hawking has said that machines could eventually "outsmart financial markets" and "out-invent human researchers".  Days may not be far when machines will fulfill the roles of companions and caregivers.
While it is challenging to imagine the future, this production is tackling the challenges of reproducing that "future" on stage.  It takes the audience into the fascinating world of video gaming as Will and Kip work on deliverables, cleaning out bugs, and packet drops.  Then with the help of high tech design and lighting, the audience is introduced to the AI robot.  Video designer, Nick Kumamoto has worked wonders with some scattered computer screens and lighting.  While AI robot appears caring and concerned, and seems to be a perfect companion, the story revolves around three human beings, one who has passed away, leaving behind memories, and two friends who struggle through their growth and transformation, to keep the ties that brought them together in the first place; gaming, innovation, and their urge to "build" something, in the heart of Silicon Valley.  "Build" will be running at CityLights in San Jose, till February 22, 2015.  For tickets, go to www.cltc.org