Posts Tagged Saoirse Ronan
Director Greta Gerwig's adaptation of Louisa May Alcott's classic novel "Little Women" is a heart warming story of tender ties of sisterhood. The story weaves in and out of past and present events in the lives of four March sisters, passionate and fiercely independent Jo March (Saoirse Ronan), wise and practical eldest sister, Meg March (Emma Watson), tender, shy and deeply caring, Beth March (Eliza Scanlen), and artistic one with a flair for dramatics, Amy March (Florence Pugh).  This talented cast is further enhanced with Laura Dern as infinitely patient, wise and loving, Marmee, Timothee Chalamet as Laurie, their neighbor, and Meryl Streep as deliciously sharp and judgmental, Aunt March.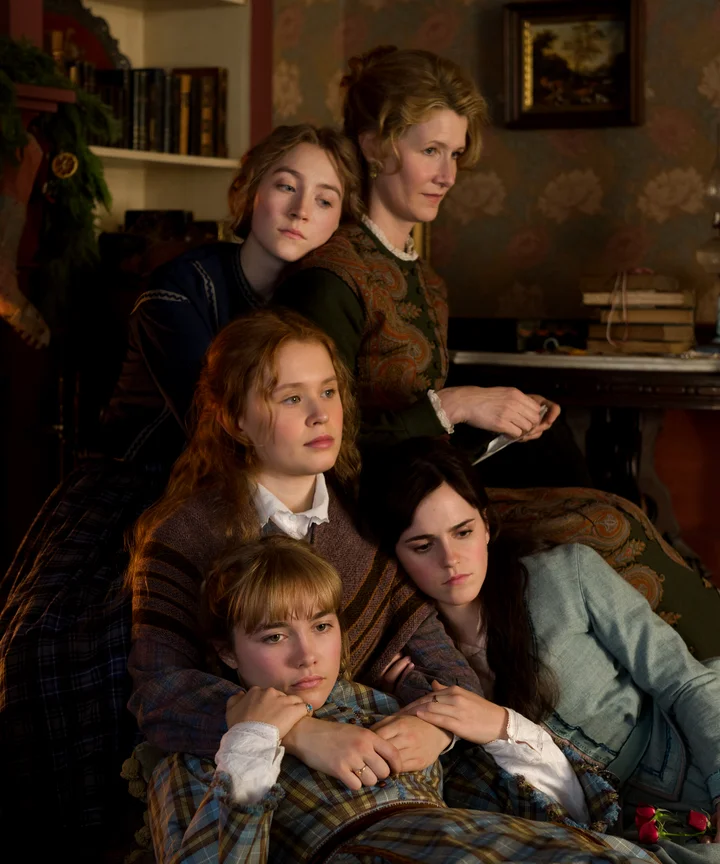 Alcott herself was a fascinating woman who served as a nurse during the Civil War, survived typhoid fever, took lessons from Henry David Thoreau, was an abolitionist and feminst and remained unmarried and was committed to her writing throughout her life. In LIttle Women, she raises questions pertinent to women's rights and society's expectations of how women should live their lives. Her characters raise these issues in a candid and forthright manner.  Gerwig's masterful adaptation of this timeless classic is not only bold but beautiful; it's not just a story of life and death, but story of life, energy and hope; not just a story of adapting to change but staying true to one's mission.  Previously having seen the theater version (http://bit.ly/2QqNTNN), I recently saw the entire television adaptation series of Little Women, on PBS. It was a treat to see this beautiful movie on the silver screen, while the characters were so fresh in my mind. (Image courtesy Lydia Wang's article on Entertainment).
Heroines in Little Women don't hesitate to have big dreams and voice big ideas as in "I'd be respected, if I didn't feel loved"; and "girls have to go into the world and make up their own minds about things". Gerwig has injected freshness and vitality and love into this timeless classic. Last 30 minutes of the film is just priceless. As you settle into the rhythm of life of March household, you are so uniquely drawn into their home that when it ends, you feel you are walking away from a family, you're certain to meet again soon.  
It was so nourishing to my soul, today it was just what I needed. On a scale of 1 to 5, with 5 being excellent, I rate the movie 4.8.
Lady Bird, written and directed by Greta Gerwig is a beautiful film about tender and turbulent ties that bind mothers and daughters. Marion McPherson (Laurie Metcalf) is a working woman, relentlessly focused on keeping her family afloat after the loss of her husband's (Tracy Letts) job. She is also annoyingly controlling, deeply opinionated, and committedly compassionate.
Qualities that we can live with and even find charming in other people's mothers, are not necessarily so charming in our own mothers, and certainly not during the turbulent teen years, marked by hormones and rebellion, boyfriends and temptations. Saoirse Ronan is brilliant in the role of Marion's daughter, Christine "Lady Bird" McPherson" (I am a devoted fan now). It is heart wrenching when she tells her nagging mother, "I am sorry I am not perfect".
Lady Bird is not happy with the idea of going to college in Sacramento, close to her family's home.  Her eyes are set on New York. "I want to go where culture is", she says. But her mother prefers that Lady Bird stay closer and go to in-state school and get a break on tuition.
It falls on Lady Bird's father to play a go-between in the conflicts of his wife and daughter. He is intuitively aware that even when daughters stray far physically or emotionally from their roots, they always come back and he assures Marion "she'll be back, she'll come back".
Lady Bird keenly observes her town and surroundings, and approaches what she sees with a fresh perspective. Her principal congratulates her for writing a beautiful essay on Sacramento and opines that what comes through from the essay is her love for Sacramento. Lady Bird casually responds, "I just pay attention" and the principal says paying attention is in fact, a measure of love. It is only when Lady Bird goes far from her home that she gets an epiphany that it was her mother, who paid the most attention to her needs and milestones.
This is a beautiful film that focuses on subtle mother daughter conflicts and manages to avoid being overly dramatic. On a scale of 1 to 5 with 5 being excellent, I rate the film as 4.6.