Posts Tagged Play Review
"Skeleton Crew" by playwright Dominique Morisseau, currently playing at Lucie Stern Theater in Palo Alto is a joint venture between Mountain View's TheatreWorks Center for Performing Arts and Mill Valley's Marin Theatre Company. Directed by Jade King Carroll, the play is set in in 2008, in the break room of an auto manufacturing plant in Detroit. By then Detroit had already begun the deep slide into the recession and as the play opens we can sense palpable tension among the employees, surrounding the possible but yet unannounced plant closure.
We often hear about the statistics of a major economic downturn, for instance, between 2007 and 2009, Michigan lost over 30,000 auto jobs and lost over 700,000 of its population (due to move and other factors), and between 2003 and 2009, Michigan's GDP shrunk dramatically and its private sector unemployment declined by over 13%. However, it is not often that we get to reflect on the massive human impact of such dramatic economic downturn, where ordinary people taking pride in their ordinary everyday jobs, experience homelessness, or consider walking around with guns for protection as crime spikes, or are walking around stressed out because of the impending uncertainty.  
Leslie Martinson deserves great kudos for finest cast of characters, who all happen to be black, reflecting the reality on ground in Detroit.. Faye (Margo Hall) has worked at the plant for 29 years. She ignores her own troubles as she generously goes around fighting on behalf of her coworkers, even as she feels deep empathy for the plant manager. The plant manager Reggie (Lance Gardner) walks a fine line between towing the company line on behalf of the management, while feeling responsible for the impact of ongoing uncertainty on the lives of the employees, with many of whom he has strong bonds. Dez (Christian Thompson) is a volatile young man, suspicious of the motives of the management and afraid of the increase in crime in his neighborhood. Shanita (Tristan Cunningham) is a pregnant young mother who has a cutting sense of humor and takes enormous pride in "building something meaningful". She just can't afford to lose the benefits as her baby is due to arrive any day.
These are people whose lives will likely be wrecked and in the play, we get a window into just that short period when they are trying to ignore the stress of uncertainty, going about doing  their jobs, arguing about who stole the food, jovially pulling each other's legs and the impending chaos that will soon hurtle them from camaraderie and collegial support into homelessness, sleeping on the couch, and all the related impact of stress on their families.
The management can lessen the human impact by announcing the plant closure earlier to give people opportunities to plan. However, management has their own selfish motives to keep it a secret. The uncertainty erodes trust among the employees and between the employees and the plant manager; also leads to theft by someone presumed to be a disgruntled employee and there are rumors of someone bringing a gun to work. In the midst of all the chaos and uncertainty, people still manage to find strength to survive, to be there for one another, to speak up for each other and ultimately to sacrifice their own comfort and happiness for a colleague they cared for.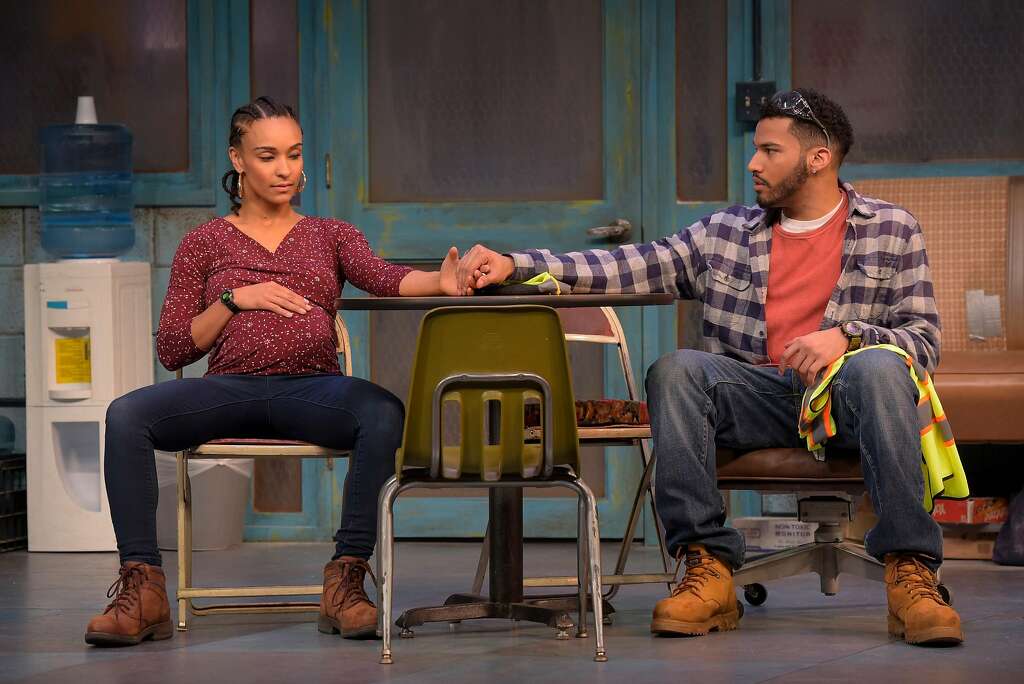 At its heart, this is a heart-rending human story that is lived again and again; made even more relevant during the current turbulent times when the gulf between the haves and the have-nots is not only widening but with total ignorance of the top tier to listen to their plight and offer real solutions, it is likely to widen even more, and there will likely be more people living through these tragic experiences.  This is a not-to-miss play of this theater season in the  bay area, and will be running till April 1, 2018 at Lucie Stern Theater in Palo Alto. Tickets will be available at www.theatreworks.org .
Currently Bay Area's naatak company is presenting its 59th production at Cubberley Theater in Palo Alto.  This production is naatak's annual "mela", a sort of theater fair. There are five short plays in five Indian languages; Marathi, Tamil, Gujarati, Bengali, Hindi and Improv comedy in Hinglish. English subtitles are projected for each short play above the stage. This is an absolutely beautiful way to showcase and enjoy India's rich linguistic and cultural heritage. After a span of 21 years, naatak can proudly claim to have broughts 55 world class plays on stage. Over 850 performers have participated in these productions and 60,000+ attendees have enjoyed these shows.

पाचव्या मजल्यावरचा वेडा  – 
The Mad Man On the Fifth Floor – Marathi
The script for Marathi play is written by Anil Sonar. It is produced by Adwait Joshi and brilliant direction is provided by Anannya Joshi. A madman precariously positioned on the ledge of a fifth floor window is being watched by the crowd below. Some have deep concern and others don't want to miss the excitement and yet some others are waiting with anticipation to the gruesome climax of the show with the madman jumping to his death. But what is this man up there? What is his story?

 লোকে কি বলবে? – What will people say
– Bengali
Directed by Sudipta Chatterjee and produced by Deepika Sriraman, and based on "He Said, She Said" by Alice Gerstenberg, this Bengali play is translated and adapted by Sudipta Chatterjee and Harish Agastya. This short play focuses on the favorite Indian pass time, "gossip". Casting is beautiful. A woman shares some juicy gossip about a romantic dalliance involving some friends. So interesting is a role played by gossip specially of romantic nature, in Indian culture, that targets of such gossip are often compromised and vilified so strongly that they can't just let it go but instead feel compelled to justify, defend and give excuses. Will the gossipy woman have finally met her match in the strong woman targeted by the gossip?
Naatak Improv – Hinglish
Naatak organization has matured so phenomenally that it can boldly brag to present improv comedy that is spontaneous and creative. In this short segment directed by Neha Goyal and Abhay Paranjape, a brilliant cast of characters perform improv games based on audience suggestions.
காஞ்சியின் துயரம் – A Tragedy in Kanchi
– Tamil
Based on "A Florentine Tragedy", a never completed play by Oscar Wilde, this play is set in 1930s during the Chola period, whereby a silk merchant confronts his beautiful wife and her royal lover. Will the play have an ending that befits the crime? Tamil speaking audience members are likely to greatly enjoy Kalapathy Sundaram's brilliant translation. The projected English subtitles give some clue but it is hard to fully enjoy Wildesque witticisms in fast projected subtitles. Directed by Soumya Agastya and produced by Archana Kamath, this short play could well be Tamil speaking literature lovers' treat.
 खिड़की – The Window
– Hindi
Based on "The Open Window" by Saki (H H Munro) and adapted for the stage by Mugdha Kulkarni, is also directed by Mugdha Kulkarni and produced by Chaitanya Godsay.  This is a mystery about a missing husband, where an open living room window comes to play a significant role. The fear experienced by a young visitor is palpable and imaginative description of the lost man gives no clue to his disappearance until…………. Well, you'll have to see it.
સાંભળ, તું બહાર જાય છે? – Everyone loves an errand boy
– Gujarati
Based on Saadat Hasan Manto's play, "Aao baat suno" this short play is adapted by Paresh Vyas and Vikas Dhurka and is directed by Natraj Kumar and produced by Devika Ashok. A lazy Sunday is transformed gradually into a comedy of errors, err…. into a comedy of errands. O M G — it is hilarious and also features the best dialogue, "Et tu brute" errr…. "Et tu Rajesh".
For tickets to Naatak's 59th Mela production, go to www.naatak.com .But hurry. There are only 2 more shows and tickets are selling out fast.