Posts Tagged Paris
The poem below is dedicated to the victims and families of #BrusselsAttacks, as peace loving people all over the world stand in unison with Belgium, as people change their profile pictures in Belgium colors, as people in Brussels open their homes for travelers stuck with nowhere to go, and as heart-wrenching photos, messages, prayers, and vigils pour in from Bombay to Belgium, from Peshawar to Paris, there is only one message for terrorists – your victory is short, you will never prevail.   
If wins are counted in numbers left dead
Today you succeed, with your bigotry
If success is measured in pints of blood
As streets run red, revel in your victory
But short-lived are your pleasures of hate
You must kill yourself, so others may die
Follow to its natural conclusion, and mate,
At bleakest dead-end, you may arrive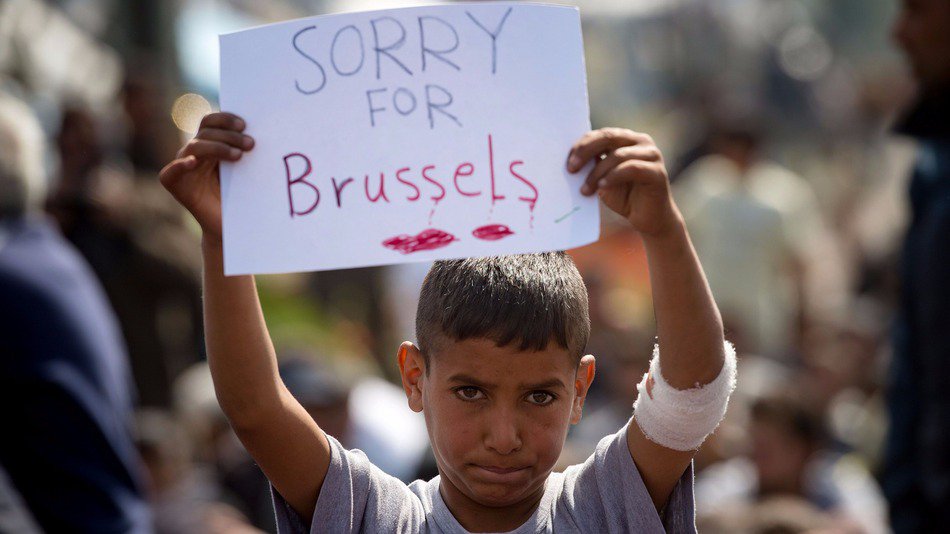 Yes short-lived are your pleasures of hate
Yourself you kill, so in peaceful slumber, others lie
Death has you marked as prime target
Wretched your life, short your joyful glee, sigh!
You can't teach, preach, sermonize, you're through!
You can't sow more hate. Future won't wait for you.
Here is link to my poem written for victims of #PeshawarAttack  http://bit.ly/1wfp47D .
Homer's Iliad is an ancient Greek epic poem, set during the Trojan war, a long ten year siege on the city of Troy, by Greece.  The poem is long and complex and centers more specifically around the short period of a quarrel between King Agamemnon and the great warrior Achilles.  Setting this poem to a performance on stage, would seem like a challenge of epic proportion.  But it is effortlessly done at the current production of the "Iliad" running at www.thestage.org, in San Jose, CA.
Based on Homer's Iliad, writers Lisa Peterson and Denis O'Hare, created the stage piece, over a period of 5 years, utilizing video, video transcriptions, improvisation, original music and diligent research.  It was translated by Robert Fagles.  Kenneth Kelleher is a brilliant director who has directed over 20 productions for The Stage, and once again he did a marvelous job, in The Iliad.
Jackson Davis in the role of the poet, gives a spell binding performance.  Although the story itself covers only a few weeks in the final year of the war, the Iliad alludes to the preceding events, including the cause of the war, the hundreds of thousands of wounded soldiers who returned home to find their spouses and fashions changed, and those who kept fighting but had forgotten the true cause of the war.  Towards the end, it sets the stage for the sequel, the Odyssey, also attributed to Homer.  This poem is regarded as more or less a complete narrative of the Trojan War.  Davis holds the audience as he tells this complex tale, alternately playing various characters, and using the many props, to set the stage for the next sequence of events.
Paris, a wayward and handsome younger brother of prince Hector of Troy, abducted Helen, the most beautiful woman and wife of the Greek king Menelaus, and brought her to Troy, as his wife, and thus began the Trojan war, that lasted for 9+ years, and took tens of thousands of lives.  Towards the end of the war, where the poem begins, Agamemnon, the Greek leader has abducted Chryseis, a daughter of a Trojan priest, and he refuses to give her up, despite being offered wealth and riches by the father.  Chryseis prays to Apollo who causes plague on the city.  Agamemnon returns Chryseis back but abducts Briseis, Achilles' captive, as compensation.  This angers Achilles and he refuses to support Agamemnon any more in the fight against Troy.  This sets the stage for the succeeding epic battle.
Without Achilles, the Greek side is enormously weakened, and is getting slaughtered, prompting his closest and most dear friend Patroclus to beg Achilles, to allow him to don the great Achilles' armor, and fight in his stead.  Soldiers imagine Patroclus to be Achilles, and Patroclus inflicts great casualty, before he is found out, and killed by Hector of Troy.  Achilles is mad with grief upon hearing of Patroclus's death, and in turn not only kills Hector, but drags and dishonors his body.  King Priam of Troy comes to Achilles to beg for his son's body.  Achilles is deeply moved, and not only returns Hector's body, but halts the war for 9 days, allowing Troy to mourn Hector's death.
Like any war, this is a classic tale, with all critical ingredients, like politics, regret, deep losses, innocent victims, and women taken as captives, against their will.  Like any war, time and again, the fighters, winners and loosers alike, appeal to the higher power, for mercy, for compassion, for winning.  This is one of the greatest stories ever told and Jackson Davis does a fabulous job of conveying this complex narrative.  There is a point when he puts this war into larger perspective and names every single war fought and recorded in history.  Wow, wow, wow!  Sickened by war and the destruction it inflicts, the poet says, "Every time I sing this song, I hope it's the last time".