Posts Tagged Natraj Kumar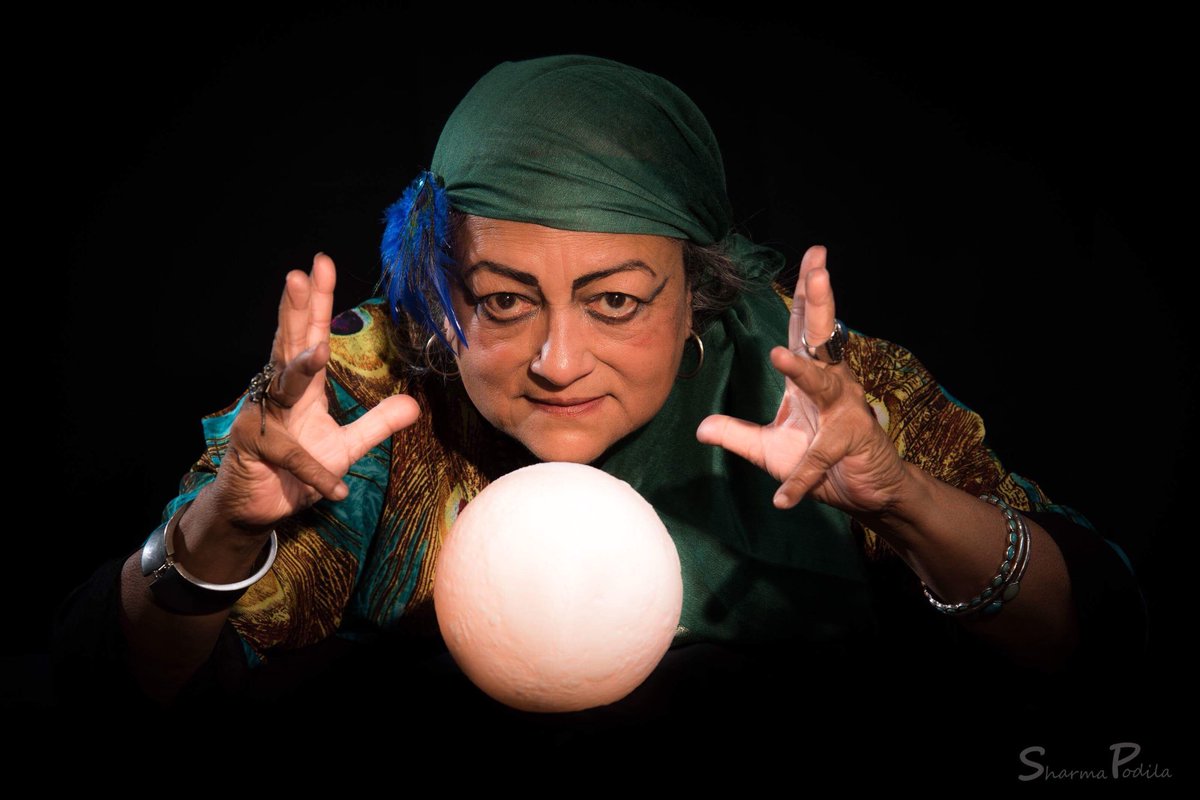 Director Savitha Samu exceeded all expectations in direction of psychological thriller Rashomon in NAATAK.org production. The story centers around human tendency to embellish the transpired events where facts take on different hues in each narrator's mind.
Originally, Rashomon was written as a short story by Akutagawa. In 1950, it came out as a film, directed by renowned Japanese film director Akira Kurosawa. It won several awards and is considered among the greatest films ever made and brought Japanese cinema on world stage. Incredibly challenging to produce live on stage, Naatak's superb cast did a fabulous job. The story centers around various characters narrating harrowing incident that involves a murder.  Set in Mumbai, everyone involved, directly or indirectly, offers an account of the events that transpired on that fateful stormy day.
Each and every single member of the cast including Rohit Dube, Kukund Marathe, Natraj Kumar, Vineet Mishra, Maunic Dharia, Ranjita Chakravary, and those playing as shadows and dhol players did complete justice to their challenging roles. But truly memorable were Ekta Brahmkshatri and Rajiv Nema in some of the most challenging roles I have ever seen on Naatak's stage.
This story speaks to  amazing capabilities of human mind that four different people offer detailed descriptive report of what transpired. Each narrator embellishes the report from their perspective, providing subjective, alternative, self-serving and often contradictory versions of the same incident, that renders their version unique and unlike any other. Five contrasting accounts of the same murder by five different individuals is enough to shake up from the core, anyone's faith in pure and unadulterated truth with all its rawness and holds deep and profound implications for credibility of eyewitness accounts, role of perceptions and biases, and basic human right of justice for all. (see my book review on "American Marriage http://bit.ly/2Kzewz1 ).  Tickets for Naatak shows are available at www.naatak.org and don't forget to get a season pass to enjoy the shows at discounted price.
"How can we make user experience like flushing a toilet", rhetorically questions Silicon Valley startup CEO, Mike Jordan (Barnaby Falls), in Anush Moorthy's play "Unicorns", a satire on modern era startups. It's a perfect script to be presented without the elaborate set, costumes, or lights, to a small, intimate gathering of Silicon Valley audience. The play was performed on second stage at Mountain View Center for Performing Arts, by NAATAK company which has won for three years in a row in 2015, 2016, and 2017, the San Jose Mercury News Reader's Choice Award, for "Best Live Theatre in Silicon Valley".
Unicorns traces an engineer's journey as he joins Oberherr, a high valuation startup. Paranoid Silicon Valley culture has made it imperative for Oberherr, to be extremely secretive regarding their products and offerings. In the absence of talking about their products, in order to get noticed before the big launch and the IPO, the company banks on heavy use of buzzwords. Mike often says, "at Oberherr, we imaginate, innovate, ideate". Dressed in the style made fashionable among high achievers by  Apple's former boss, Steve Jobs, in black turtleneck and blue jeans, Mike insists, their engineers "create things from nothingness".
The company has eliminated desks to enable free flow of thinking and interaction and employees are forbidden to talk about the company, outside its premises. And then there is a palpable omnipresence of the board (Havish Ravipati) keeping a tight focus on the impending IPO. All this paranoia and cutthroat mentality has created interesting dynamics at Oberherr. While Radhika (Tannistha Mukherjee) is highly territorial and least helpful to newbies, her accomplishments go unnoticed in supposedly "egalitarian" workplace, dominated by men.  Ramanathan (Natraj Kumar) has learned to get noticed by sucking up to Mike, and Robin (Rohit Mukherjee) stays out of trouble by staying focused on his laptop. Sahil (Varghese Muthalaly) is fabulous in his role as a new engineer joining Oberherr whose fortune rises and tumbles at the blink of an eye. Sahil shares a healthy camaraderie with a fellow software engineer, Joyce (Aparna Warrier) but couldn't explain even to his wife Priya (Preeti Bhat) about company's products.
As seen from a few recent debacles, (one of the prominent one being Theranos) there are interesting shortcomings in the hyped up Silicon Valley startup culture.  The focus on speed and short term gains, at the expense of long term vision and value-add of its offerings is often proportionately correlated with diminishing concern for people, true teamwork and quality of life. People become pawns in a system when stretching the truth isn't just overlooked but sometimes admired, in quest for world domination and mad rush to IPOs.  Unicorns by NAATAK is a fantastic spoof on the Silicon Valley startup culture. This is a not-to-miss play of this theater season in the bay area. Tickets may be available at www.naatak.com .
Currently Bay Area's naatak company is presenting its 59th production at Cubberley Theater in Palo Alto.  This production is naatak's annual "mela", a sort of theater fair. There are five short plays in five Indian languages; Marathi, Tamil, Gujarati, Bengali, Hindi and Improv comedy in Hinglish. English subtitles are projected for each short play above the stage. This is an absolutely beautiful way to showcase and enjoy India's rich linguistic and cultural heritage. After a span of 21 years, naatak can proudly claim to have broughts 55 world class plays on stage. Over 850 performers have participated in these productions and 60,000+ attendees have enjoyed these shows.

पाचव्या मजल्यावरचा वेडा  – 
The Mad Man On the Fifth Floor – Marathi
The script for Marathi play is written by Anil Sonar. It is produced by Adwait Joshi and brilliant direction is provided by Anannya Joshi. A madman precariously positioned on the ledge of a fifth floor window is being watched by the crowd below. Some have deep concern and others don't want to miss the excitement and yet some others are waiting with anticipation to the gruesome climax of the show with the madman jumping to his death. But what is this man up there? What is his story?

 লোকে কি বলবে? – What will people say
– Bengali
Directed by Sudipta Chatterjee and produced by Deepika Sriraman, and based on "He Said, She Said" by Alice Gerstenberg, this Bengali play is translated and adapted by Sudipta Chatterjee and Harish Agastya. This short play focuses on the favorite Indian pass time, "gossip". Casting is beautiful. A woman shares some juicy gossip about a romantic dalliance involving some friends. So interesting is a role played by gossip specially of romantic nature, in Indian culture, that targets of such gossip are often compromised and vilified so strongly that they can't just let it go but instead feel compelled to justify, defend and give excuses. Will the gossipy woman have finally met her match in the strong woman targeted by the gossip?
Naatak Improv – Hinglish
Naatak organization has matured so phenomenally that it can boldly brag to present improv comedy that is spontaneous and creative. In this short segment directed by Neha Goyal and Abhay Paranjape, a brilliant cast of characters perform improv games based on audience suggestions.
காஞ்சியின் துயரம் – A Tragedy in Kanchi
– Tamil
Based on "A Florentine Tragedy", a never completed play by Oscar Wilde, this play is set in 1930s during the Chola period, whereby a silk merchant confronts his beautiful wife and her royal lover. Will the play have an ending that befits the crime? Tamil speaking audience members are likely to greatly enjoy Kalapathy Sundaram's brilliant translation. The projected English subtitles give some clue but it is hard to fully enjoy Wildesque witticisms in fast projected subtitles. Directed by Soumya Agastya and produced by Archana Kamath, this short play could well be Tamil speaking literature lovers' treat.
 खिड़की – The Window
– Hindi
Based on "The Open Window" by Saki (H H Munro) and adapted for the stage by Mugdha Kulkarni, is also directed by Mugdha Kulkarni and produced by Chaitanya Godsay.  This is a mystery about a missing husband, where an open living room window comes to play a significant role. The fear experienced by a young visitor is palpable and imaginative description of the lost man gives no clue to his disappearance until…………. Well, you'll have to see it.
સાંભળ, તું બહાર જાય છે? – Everyone loves an errand boy
– Gujarati
Based on Saadat Hasan Manto's play, "Aao baat suno" this short play is adapted by Paresh Vyas and Vikas Dhurka and is directed by Natraj Kumar and produced by Devika Ashok. A lazy Sunday is transformed gradually into a comedy of errors, err…. into a comedy of errands. O M G — it is hilarious and also features the best dialogue, "Et tu brute" errr…. "Et tu Rajesh".
For tickets to Naatak's 59th Mela production, go to www.naatak.com .But hurry. There are only 2 more shows and tickets are selling out fast.