Posts Tagged musical
It's remarkably powerful, it's touching, it makes you laugh, it makes you cry, it's intimate, it's deeply personal and political at the same time. Based on autobiographical graphic novel by Alison Bechdel, the play Fun Home focuses on the theme of sexual identity. Through very powerful and familial context of father-daughter relationship, the musical explores the cost of living in the closet and the possibilities that open up, on coming out. Fun Home has won several awards including Lucille Lortel Award, Outer Critics Circle Award, Obie, Award, and New York Drama Critics' Circle Award and has garnered five Tony Awards including "Best Musical".
While prejudice remains as a dark and ugly presence in the world today, Fun Home helps us see the costs that societies, families and generations bear due to hidden and overt biases. Born in 1930s, a husband and father, Bruce Bechdel (James Lloyd Reynolds) lives a closeted life.  A caring husband and father, Bruce hides a big secret that diminishes his accomplishments, at least in his own mind. He channels his frustration into an obsession with cleanliness, obsession with dressing his daughter in girlie attire and looking for secret avenues to fulfill his desire. He has built a beautiful family with his wife, Helen Bechdel (Crissy Guerrero), his sons, Christian (Jack Barrett, Dylan Kento Curtis), John (Billy Hutton, Oliver Copaken Yellin), and his daughter Alison. The play mainly centers on his relationship with his daughter, Alison.  Moira Stone (as narrator Alison), Lila Gold (as young Alison), and Erin Kommor (as older Alison) are all super fabulous in their roles and vividly bring out the complex father-daughter dynamics at various stages in the story.  When Alison grows up and goes away to college, she meets Joan (Ayelet Firstenberg) and experiences love's first stirrings. Terrified and excited, Alison tries to quosh the feelings at first and later explores them and comes out as a lesbian.

Special kudos to scenic designer, Andrea Bechert, fabulous stage manager, Randall K. Lum and assistant stage manager, Emily Anderson Wolf for beautiful staging and scenes. Robert Kelley is a brilliant director and in Fun Home, the story of impact of prejudice is brilliantly told.
Somewhere between the father who felt compelled to live a lie his whole life, and a daughter who finds the environment and courage to seek fulfillment on her own terms, lie the simple truths about both the suffering and cost of having to hide who you truly are, and the joy of embracing your whole self. Great kudos to Alison Bechdel for embracing her whole self and finding to courage to share the story. It was Lisa Kron who was an early fan of the story and with Bechdel's blessing, teamed up with composer Jeanine Tesori and adapted the graphic novel for the stage, as a musical. In blending this beautiful human story told through pictures with stirring lyrics, the trio has carved a straight path to the human heart.
This is a not-to-miss play of this theater season. Tickets are available at www.theatreworks.org .
Musical comedy "The Toxic Avenger" based on Lloyd Kaufman's film of the same name, originally derived from book and lyrics by Joe DiPietro and music and lyrics by David Bryan, is currently playing at The stage (www.thestage.org) in San Jose.  It is a silly show tackling a serious subject and features a talented cast that performs zillion roles.  Addressing the issue of climate change, the show shies away from becoming preachy or depressing. It begins with the lyrics
Global warming's up ahead
The experts think we'll all be dead
But they don't know we're here to fight
It is a story of heavily polluted New Jersey town where Melvin Ferd III (Will Springhorn Jr.) resolves to get to the bottom of the cause of pollution and is pitted against town's greedy, power-hungry and seductive mayor Babs (Allison F. Rich) and her gang of thugs. The mayor's for-profit corporation is the cause of town's growing pollution but the mayor is entirely focused on growing her bottom line.
Here's a place between heaven and hell
Don't need a map, just follow the smell
A place filled with filthy air
A place full of dark despair
A place you have no prayer
A place called New Jersey
New Jersey
Jersey, the Garden State
Ther's an exit called the thirteen gee
Right off the turnpike where it smells just like pee
An exit no one dares get off:
An exit where the children cough
When the mayor's thugs and Melvin engage in a fight, Melvin falls into a vat of toxic waste and emerges as a heroic green monster with superior strength. Melvin's nagging mother (also played by talented Allison F. Rich) does not the express slightest shock and instead reiterates her disappointment with her son. Her lack of shock at the sight of her son is shocking in itself and at the same time her superb acting makes it feel like a natural response of a nagging mother to a child not rising up to his talents. It is all hilarious.  Melvin also reconnects with his blind love interest, Sarah (Courtney Hatcher). Sarah does not know that it is Melvin and falls hopelessly in love with who she believes is the superhero who saved her from the town's thugs.
He's strong and sweet and lives with his mother,
He saved my life so there is no other.
Such a man and man is he macho
Spicy cool like a bowl of gaspacho
Someday he's ganna be my big, my big french boyfriend!
But Sarah soon gets an opportunity to touch Melvin's ugly and scarred face and her love abets with the same speed as it had begun to overflow. When scorned by his sweetheart, broken hearted and depressed Melvin goes from being a town hero and a legend to a town pariah. However, Sarah soon changes her mind after she gets a talking-to by Melvin's mother who explains "If blind people don't like ugly people, than who will" and she and Sarah's friends make a practical point that – after all
All men are freaks
It's a burden every woman shares as she travels down life's roads
Superbly directed by Jonathan Rhys Williams, the play is hilariously funny and witty. Cirby Hatano's set is eye catching wasteland with scattered drums of toxic waste. Video design by Vijay M. Rajan occasionally fills the gap in the narrative and adds fantastically funny comic touches. When the fight ensues between the  hero and the thugs, blood is scattered or limbs are severed on the projected screen rather than on the set. The 80s style rock style songs are played by an onstage rock band directed by Brian Allan Hobbs.
The Toxic Avenger is produced at San Jose Stage at a critical time in our history, when depressing developments on the issue of climate change makes us feel both upset and helpless. Toxic Avenger is just the hero we need to transport us for a short while, to a place where we are not entirely helpless, and our righteous commitment enables us to find love and perfect solution for the cause of climate change. The Toxic Avenger will be playing at the Stage in San Jose until July 16, 2017 and tickets are available at www.thestage.org .
World Premiere of the musical "Triangle", at www.theatreworks.org kicked off 2015/2016 season, with heart rending lyrics by Thomas Mitzer, music by Curtis Moore, based on a book by Moore, Mitzer, and Joshua Scher.  The Triangle features a superb cast with Laura D'Andre, Ross Lekites, Megan McGinnis, Zachary Prince, Sharon Rietkerk, and Rolf Saxon, who take us on a fascinating journey through time, sometimes playing double roles, in the past and the present.
While the tragedy of 9/11 is more fresh in our minds, the play links it to a sorrowful past tragedy, that took place in 1911, a fire at Triangle Shirtwaist Corporation, where 146 workers mostly women, perished, in brief 19 minutes, before it was put out.
At this point, a little history lesson is in order.  The below information is from Howard Zinn's "A People's History of the United States".  This was a time when there were 500 garment factories in New York.  Here's how a woman described the conditions: dangerously broken stairways, windows few and so dirty…. The wooden floors that were swept once a year…. Hardly any other light but the gas jets burning by day and by night….. the filthy, malodorous lavatory in the dark hall.  No fresh drinking water….. mice and roaches…. During winter… we suffered from the cold and in summer from the heat……. and we toiled seventy and eighty hours a week…. Saturdays and Sundays included!  A sign would go up on Saturday afternoon "If you don't come in on Sunday, you need not come in on Monday"….. We wept, for after all, we were only children………   In 1904, in one year alone, 50,000 accidents took place in New York factories.  Hat and Cap makers were getting respiratory diseases, quarrymen were inhaling deadly chemicals, lithographic printers were getting arsenic poisoning etc.
At the time when fire started in a rag bin at Triangle factory, despite the law to not lock the doors, the doors were locked so the company could keep track of the employees.  One door that opened, opened inward, despite the law for doors to open outward.
If ghosts can speak, what stories might they tell?  Despite the hardships and the harsh conditions, there must be hope for a better life, families waiting for loved ones to come home, and relationships that must have blossomed.  In "Triangle", a young factory girl sings "how does a girl like me, end up in the middle of all the madness?", while the manager sings "we are in America, you want to go back; is that what you want?"   The eyewitnesses said that when the fire began, as the horrified crowd watched from below, "girl after girl appeared at the reddened windows, paused for a brief terrified moment and then lept to their death, at the pavement below. The firemen stood helpless as their ladders could not go beyond 7th floor and most of the young girls were trapped on the 8th and 9th floors.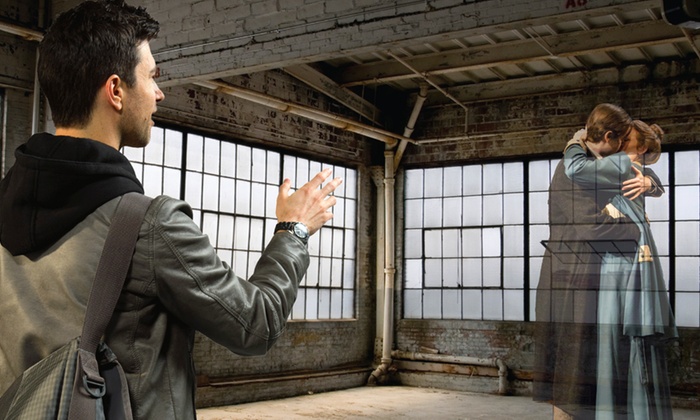 In the play, a young factory girl, Sarah (Megan McGinnis) is looking to escape from being engulfed in the fire by jumping to her death from the window, and sings, "Tell me how not to be afraid", as her boyfriend, Vincenzo (Zachary Prince) holds her out and lets her go, so she would not have to do it.   This is also story of love.  Amidst great adversity, young love is blossoming  in 1911, while the present day love is blossoming between two young men, Ben (Zachary Prince) and Brian (Ross Lekites), pulled together by the experience of 9/11 tragedy, and attachment and curiosity regarding the events of 1911.  
Stage Manager Justin D. Schlegel, Assistant Stage Manager Emily Anderson Wolf and Scenic Designer Daniel Zimmerman deserve great kudos in creating simple yet mesmerizing set design where quick shifts between two different centuries are clear and concise.  The orchestra under the direction of Musical Director, James Sampliner provides rich delineating sound for lyrics of each period.   This play has tremendous heart in it and is centered around significant historical events.  It is a must-watch play of this theater season, in the bay area.  For tickets, go to www.theatreworks.org .