Posts Tagged Megan McGinnis
World Premiere of the musical "Triangle", at www.theatreworks.org kicked off 2015/2016 season, with heart rending lyrics by Thomas Mitzer, music by Curtis Moore, based on a book by Moore, Mitzer, and Joshua Scher.  The Triangle features a superb cast with Laura D'Andre, Ross Lekites, Megan McGinnis, Zachary Prince, Sharon Rietkerk, and Rolf Saxon, who take us on a fascinating journey through time, sometimes playing double roles, in the past and the present.
While the tragedy of 9/11 is more fresh in our minds, the play links it to a sorrowful past tragedy, that took place in 1911, a fire at Triangle Shirtwaist Corporation, where 146 workers mostly women, perished, in brief 19 minutes, before it was put out.
At this point, a little history lesson is in order.  The below information is from Howard Zinn's "A People's History of the United States".  This was a time when there were 500 garment factories in New York.  Here's how a woman described the conditions: dangerously broken stairways, windows few and so dirty…. The wooden floors that were swept once a year…. Hardly any other light but the gas jets burning by day and by night….. the filthy, malodorous lavatory in the dark hall.  No fresh drinking water….. mice and roaches…. During winter… we suffered from the cold and in summer from the heat……. and we toiled seventy and eighty hours a week…. Saturdays and Sundays included!  A sign would go up on Saturday afternoon "If you don't come in on Sunday, you need not come in on Monday"….. We wept, for after all, we were only children………   In 1904, in one year alone, 50,000 accidents took place in New York factories.  Hat and Cap makers were getting respiratory diseases, quarrymen were inhaling deadly chemicals, lithographic printers were getting arsenic poisoning etc.
At the time when fire started in a rag bin at Triangle factory, despite the law to not lock the doors, the doors were locked so the company could keep track of the employees.  One door that opened, opened inward, despite the law for doors to open outward.
If ghosts can speak, what stories might they tell?  Despite the hardships and the harsh conditions, there must be hope for a better life, families waiting for loved ones to come home, and relationships that must have blossomed.  In "Triangle", a young factory girl sings "how does a girl like me, end up in the middle of all the madness?", while the manager sings "we are in America, you want to go back; is that what you want?"   The eyewitnesses said that when the fire began, as the horrified crowd watched from below, "girl after girl appeared at the reddened windows, paused for a brief terrified moment and then lept to their death, at the pavement below. The firemen stood helpless as their ladders could not go beyond 7th floor and most of the young girls were trapped on the 8th and 9th floors.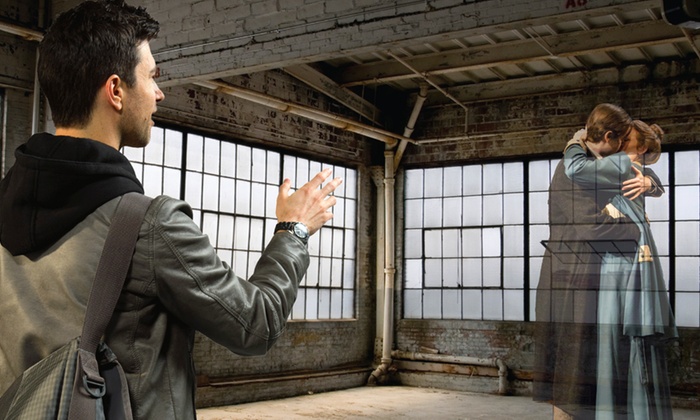 In the play, a young factory girl, Sarah (Megan McGinnis) is looking to escape from being engulfed in the fire by jumping to her death from the window, and sings, "Tell me how not to be afraid", as her boyfriend, Vincenzo (Zachary Prince) holds her out and lets her go, so she would not have to do it.   This is also story of love.  Amidst great adversity, young love is blossoming  in 1911, while the present day love is blossoming between two young men, Ben (Zachary Prince) and Brian (Ross Lekites), pulled together by the experience of 9/11 tragedy, and attachment and curiosity regarding the events of 1911.  
Stage Manager Justin D. Schlegel, Assistant Stage Manager Emily Anderson Wolf and Scenic Designer Daniel Zimmerman deserve great kudos in creating simple yet mesmerizing set design where quick shifts between two different centuries are clear and concise.  The orchestra under the direction of Musical Director, James Sampliner provides rich delineating sound for lyrics of each period.   This play has tremendous heart in it and is centered around significant historical events.  It is a must-watch play of this theater season, in the bay area.  For tickets, go to www.theatreworks.org .