Posts Tagged Mark Twain
During every theater season, I select best plays as not-to-miss plays of the theater season. Right up front, I will say this is a must-see, not-to-miss-play of this theater season.  It is running at theatreworks in Mountain View. Mark Twain's discerning eye and sharp pen is immortalized by master directors, Randal Myler and Dan Wheetman, in this theatrical production.
A musical devoid of any motive, morals or plot has plenty of all that, if you look deep and listen intuitively. Mighty Mississippi is witness to many heartaches, sorrows, and celebrations and there is much to learn. It is indeed America's good fortune that this masterfully witty storyteller also traveled up and down the country. Born Samuel Langhorne Clemens, he took on the pseudonym Mark Twain on the banks of Mississippi, a term to mark when the depth of the water is two fathoms, meaning the vessel is on safe water,
For a short period when Twain worked in the river trade on Mississippi, a river that flows from Northern Minnesota all the way south for 2,320 miles, Twain astutely observed. As he explored America's iconic cultural landscape, winds of change were blowing through the country. In his observations, people working on the river, feeding off of the river, living on the banks of the river, come to life. Stories of the riverboat pilots and brazen gamblers, farm wives who longingly looked back at carefree days as young girls, field hands looking for opportunity to run to freedom somewhere up North, the skillful hardworking lumberjacks and the boatmen all enrich this masterpiece.
In theatreworks musical, Dan Hiatt does a fabulous job as Mark Twain, giving commentary in speech that comes directly from Twain's many novels, lectures, and essays as well as from actual histories on the lives of lumbermen, farmers, slaves, dock workers and others who stayed and toiled on the banks of the river. Big Kudos to Emily Anderson Wolf and Taylor McQuesten for fabulous stage design and to David Lee Cuthbert for brilliant scenic and media design in this journey on the muddy river. 
Of the mighty river Twain says, "you can hang on to her but you can't control her" and "The Mississippi River will always have its own way; no engineering skill can persuade it to do otherwise…."
Music direction by Dan Wheeetman is brilliant. Songs are entertaining….

Well, I went on the mountain
And I gave my horn a blow
Thought I heard some purty gal say
"Yonder come my beau"
Crow black chicken and crow for a day
Crow black chicken and fly away 
There's longing and lament in some of the soulful songs
When I was a single girl, dressed in clothes so fine,

Now I am a married girl, go ragged all the time

Wish I was a single girl again

When I was a single girl, had shoes of the very best kind

Now I am a married girl, go barefoot all the time

Wish I was a single girl again
Some songs offer images of incredibly skilled lumberjacks doing infinitely challenging tasks
Now, boys, if you will listen, T will sing to you a song,
It's all about the shanty-boys, and how they get along;
They are a jovial set of boys, so merry and so fine.
They spend a pleasant Winter, in cutting down the pine.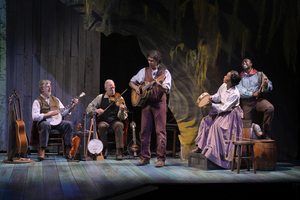 And so the musical continues weaving in stories of
wild lumberjacks, rovin' gamblers, and dreamers of the Delta.
There are farmers, and sailors, likewise mechanics, too,
And all sorts of tradesmen, found with a lumber crew;
The choppers and the sawyers, they lay the timber low.
While the swampers and the skidders, they haul it to and fro.
The cast, Valisia LeKae, Tony Marcus, Rondrell McCormick, Chic Street Man, and Dan Wheetman bring to life all the stories of river folks. They entertain and enthrall, educate and elucidate and keep the audience on the edge of their seats, with foot thumping melodies. 
Indeed America is the land of the free but Twain immortalizes the mighty Mississippi as the waters that carried many slaves to freedom, to the Northern states. 
I'm comin' Lord, for my heavenly reward
I'm comin' home to you, can you see me comin' thru
Thru clouds of persecution, and stumblin' on my way
I 'spect I'm only makin', 'bout a half a mile a day
Masterfully woven into the lyrics below are subtle references to the operatives of the underground railroad and the markings they left on trees and other landmarks to point the way to freedom.
Well the river bank makes a mighty good road
Dead trees will show you the way
Left foot, peg foot, travelin' on
Follow the drinkin' gourd
For the old man is waiting to carry you to freedom
Follow the drinkin' gourd
Well the river ends, between two hills
Follow the drinkin' gourd
There's another river on the other side
Follow the drinkin' gourd
 yearning for more. 
The musical does not have a singular plot, motive, or moral But if you look through Twain's eyes, you shall find plots within plots and plenty of motives and morals. It is small wonder that in Twain's iconic novel, "Adventures of Huckleberry Finn", the river becomes both the setting of the novel and its central theme. And as Huck continues on, charting his own course and defining his own morality, the river carries on, offering both it's umpteen bounty and it's menace.
I wants to go back to Helena, the high waters got me bogged.
I wants to go back to Helena, the high waters got me bogged.
I woke up early this mornin', a water hole in my back yard.
They want me to work on the levee, I have to leave my home.
They want to work on the levee, that I have to leave my home.
I was so scared the levee might break out and I may drown.
Twain said, "Travel is fatal to prejudice, bigotry, and narrow-mindedness". This journey down the Mississippi is an invitation for us to take an honest and also lighthearted look at the world around us. We may learn much and perhaps shed some baggage, if we can travel with Twain for some time, without malice and with genuine curiosity about the world around us.  Mark Twain's River of Song" will be running at Mountain View Center for the Performing Arts, till October 27, 2019. Tickets can be obtained at www.theatreworks.org . 
Alex Goley, playing Huckleberry Finn, a fictional character from Mark Twain's classic, The Adventures of Huckleberry Finn, in "Big River", written by William Hauptman, is outstanding. The entire big cast, including James Monroe Iglehart, playing runaway slave, Jim and Scott Reardon, playing Tom Sawyer, do an equally superb job, in this TheatreWorks, Silicon Valley Presentation.
In this classic story, set in 1840s, Huck, the son of the town's vagrant drunkard, "Pap" Finn, is a vagabond who is taken in by the Widow Douglas and her sister, Ms. Watson, after Huck has fallen into some money. They try to civilize Huck, believing it to be their Christian duty as captured in the lyrics, "You better learn to read and you better learn your writin' Or you'll never get to heaven cause you won't know how". Soon Huck's father takes him back. However, Huck quickly tires of his father, perennially in a state of hallucinatory drunkenness, and Huck manages to fake his own death and escape from his father to Jackson's Island. The child is growing up fast and he asserts his identity, "I, Huckleberry, me, Hereby declare myself to be Nothin' ever other than Exactly what I am, And I'll never change for no one, No matter what they say". It is then that Huck coincidentally meets up with Jim who is running away and after a brief struggle with his conscience, Huck decides to help Jim escape slavery, even though he is certain he will go to hell, for being a abolitionist.
The rest of the story is about Huck and Jim's adventures on the "mighty Mississippi"; "Look out for me oh muddy water your mysteries are deep and wide" and "Hell, there ain't no way to measure Why I love you more than I did the day before".   As if, as a warning to the seriousness of their actions, a boat carrying runaway slaves back to their masters passes them in the night. As Jim and Huck try to stay hidden, they hear the defeated slaves singing, "Crossing to the other side I will worry 'bout tomorrow, When tomorrow comes in sight. Until then, Lord, I'm just a pilgrim, Crossing to the other side". Propelled along on this journey, with unforgettable songs, Jim and Huck pick up two con men who try to swindle the heiress Mary Jane and then sell Jim. During this time, at one point, Huck plays a horrible trick on Jim by assuming the guise of a slave hunter. Jim is not amused and he rebukes Huck for his poor sense of humor, and demands an apology. This is not just a story of friendship but of freedom and human dignity. After some soul searching Huck realizes that Jim, though a black and previously served as a slave, is a human being and deserves an apology. And together, they sing, what rings true even today, "Just like the earth, just like the sun, Two worlds together are better than one. I see the friendship in you eyes, That you see in mine. But we're worlds apart, worlds apart". (These are my most favorite lyrics).  Huck makes a plot and resolves to try to free Jim, despite all the odds stacked against him, as he sings, "once again I am waitin' for the light to shine, I am waitin' for the light to shine, I have lived in the darkness for so long, I'm waitin' for the light to shine".
The adventurous journey of two friends, with their colorful encounters with people along the Mississippi river, is beautifully captured, with lyrics sung by the talented cast, against the backdrop of absolutely superb staging. Kudos to the Stage Manager, Gregg Rehrig, for such an outstanding job. Legendary Roger Miller has delivered the essence of American history, with awesome lyrics, that are brought to life by Musical Director, William Liberatore.  Robert Kelley, the Artistic Director and Phil Santora, the Managing Director have re-created this not to be missed timeless classic that celebrates the prevalence of the human spirit, against all entrenched prejudices.  It is running at the beautiful Lucie Stern Theatre in Palo Alto, till December 30, 2012.  For tickets and more information, go to http://www.theatreworks.org/shows/1213-season/bigriver .
On this International Women's Day, just sayin'
May women feel free to be but a person of their choosin'
Find love and happiness, With OR Despite, a man
For what would people on earth be without women
They'd be "scarce, sir" says Mark Twain