Posts Tagged Lucie Stern Theater
"Skeleton Crew" by playwright Dominique Morisseau, currently playing at Lucie Stern Theater in Palo Alto is a joint venture between Mountain View's TheatreWorks Center for Performing Arts and Mill Valley's Marin Theatre Company. Directed by Jade King Carroll, the play is set in in 2008, in the break room of an auto manufacturing plant in Detroit. By then Detroit had already begun the deep slide into the recession and as the play opens we can sense palpable tension among the employees, surrounding the possible but yet unannounced plant closure.
We often hear about the statistics of a major economic downturn, for instance, between 2007 and 2009, Michigan lost over 30,000 auto jobs and lost over 700,000 of its population (due to move and other factors), and between 2003 and 2009, Michigan's GDP shrunk dramatically and its private sector unemployment declined by over 13%. However, it is not often that we get to reflect on the massive human impact of such dramatic economic downturn, where ordinary people taking pride in their ordinary everyday jobs, experience homelessness, or consider walking around with guns for protection as crime spikes, or are walking around stressed out because of the impending uncertainty.  
Leslie Martinson deserves great kudos for finest cast of characters, who all happen to be black, reflecting the reality on ground in Detroit.. Faye (Margo Hall) has worked at the plant for 29 years. She ignores her own troubles as she generously goes around fighting on behalf of her coworkers, even as she feels deep empathy for the plant manager. The plant manager Reggie (Lance Gardner) walks a fine line between towing the company line on behalf of the management, while feeling responsible for the impact of ongoing uncertainty on the lives of the employees, with many of whom he has strong bonds. Dez (Christian Thompson) is a volatile young man, suspicious of the motives of the management and afraid of the increase in crime in his neighborhood. Shanita (Tristan Cunningham) is a pregnant young mother who has a cutting sense of humor and takes enormous pride in "building something meaningful". She just can't afford to lose the benefits as her baby is due to arrive any day.
These are people whose lives will likely be wrecked and in the play, we get a window into just that short period when they are trying to ignore the stress of uncertainty, going about doing  their jobs, arguing about who stole the food, jovially pulling each other's legs and the impending chaos that will soon hurtle them from camaraderie and collegial support into homelessness, sleeping on the couch, and all the related impact of stress on their families.
The management can lessen the human impact by announcing the plant closure earlier to give people opportunities to plan. However, management has their own selfish motives to keep it a secret. The uncertainty erodes trust among the employees and between the employees and the plant manager; also leads to theft by someone presumed to be a disgruntled employee and there are rumors of someone bringing a gun to work. In the midst of all the chaos and uncertainty, people still manage to find strength to survive, to be there for one another, to speak up for each other and ultimately to sacrifice their own comfort and happiness for a colleague they cared for.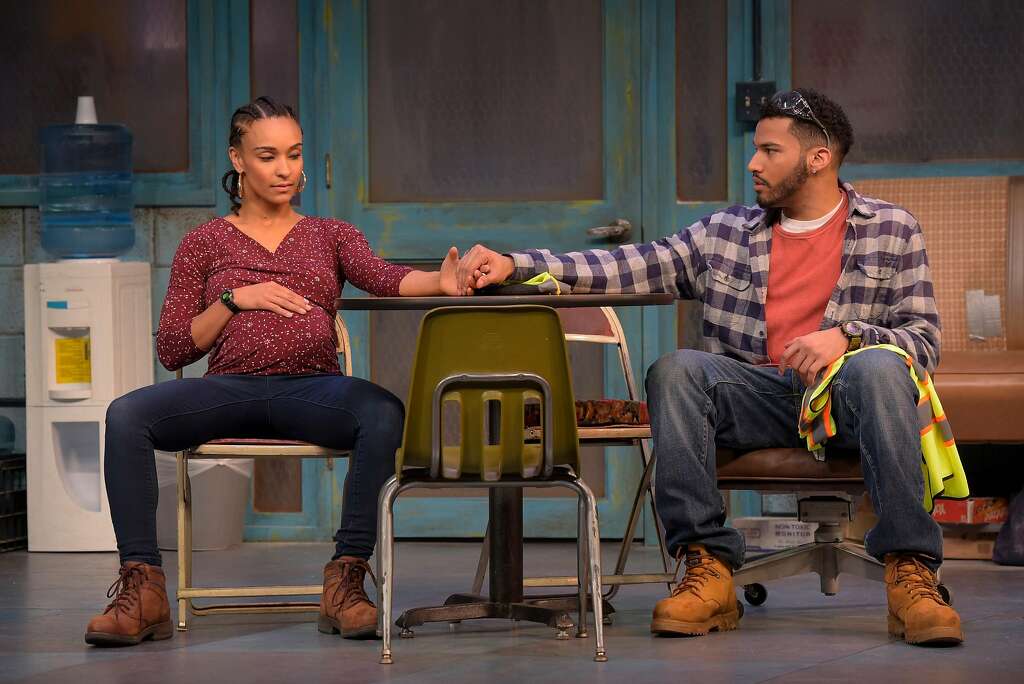 At its heart, this is a heart-rending human story that is lived again and again; made even more relevant during the current turbulent times when the gulf between the haves and the have-nots is not only widening but with total ignorance of the top tier to listen to their plight and offer real solutions, it is likely to widen even more, and there will likely be more people living through these tragic experiences.  This is a not-to-miss play of this theater season in the  bay area, and will be running till April 1, 2018 at Lucie Stern Theater in Palo Alto. Tickets will be available at www.theatreworks.org .
"I feel I have hit bottom and then a trap door opens and I go further down and find another way to be sad".  Mr. Felt (Steve Brady) is the host of iconic children's TV program and is struggling with the loss of his wife and longtime puppeteer partner.  He has lost his enthusiasm and is contemplating retirement.  Show's director, Tom (Michael Storm) has other ideas.  He wants to continue the show and he brings in a new puppeteer Jodi (Sarah Moser) to replace Mr. Felt's wife, and to work the puppet, Francis.
In addition to being nervous, Jodi could not measure up to the role and fill in the big shoes of the original person.  However, Mr. Felt devotes a weekend to train Jodi in little nuances of puppet show, and Jodi turns out to be a great student.  Mr. Felt also feels rejuvenated, and he develops a close bond with Jodi.  After Jodi's training, they are ready to share her skills with the Director Tom, and fellow puppeteer, Carol (Suzanne Grodner).  Mr. Felt was not prepared for the reaction from Carol.
It becomes apparent that this close knit team had much work to do, when it came to dealing with the loss of the team member, wife, and a close friend.  They could not simply put back the pieces, replace the old team member with a new one, and move on.  They needed to work through their grief, their anger and sadness, feel it, share it, mourn, cry, and rejoice in the happy memories, before letting go and moving on.
The show too must go on.  However, it does not have to go on as it always did in the past, pretending that there wasn't a major upheaval, a huge crisis, and a deep loss, that the team was dealing with.  Can this moment of crisis be an opportunity to get real with the little members of its fan club, the children?
Great kudos to the Artistic Director, Robert Kelley, for continuing to expand the perspectives of the audience, through the medium of live theater.  Writer, David West Read has written a simple story, that has much depth and combines comedy and tragedy, that mirrors life.  Director, Stephen Brackett has done a fabulous job in helping it come alive, on stage.  As always Stage Manager, Jamie D. Mann has done a superb job in creating TV set, complete with clappy closet and Carol's (the puppet) barn.
Special credits to the Casting Director, Leslie Martinson, and extremely talented cast, who not only played their roles, but played the roles of the puppets, and/or relating to the puppets, in that it seemed like it was a talented cast of seven, Steve Brady, Suzanne Grodner, Michael Storm, Sarah Moser, Carol, Francis, and Meatball Moose, (eight, counting Mr. Felt's wife) .  What a treat!!
Do not miss the show; it is good for the laughs and good for the soul.  "The Great Pretender" will be running at Lucie Stern Theater in Palo Alto, till August 3, 2014 and tickets can be available at http://www.theatreworks.com.
Director Robert Kelley has done it again; a superb job of bringing the classic "Little Women" by Allan Knee, based on the original novel by Louisa May Alcott, on stage at www.theatreworks.org .   This classic tale of four sisters is brought on stage in the form of a musical, with lovely lyrics by Mindi Dickstein and music by Jason Howland, under musical director, William Liberatore.  It is playing in Palo Alto, at Lucie Stern Theater, until January 4, 2014.  The play is set in 1868, during the time of the civil war, in New England.  Costume Design befitting the period is beautiful and the credit goes to Fumiko Bielefeldt and creative scenic design is by Joe Ragey.
Alcott wrote the novel "Little Women", based on familiar references from her own life.  In the play, the father of four girls (the March sisters), is away, fighting in the war, leaving their mother, Marmee, (beautifully played by Elizabeth Ward Land) to run the household full of four young women.   Emily Koch is absolutely stupendous as Jo the second sister, an aspiring writer, who is feisty, a non conformist, loves books, and spurns traditions.  Jo has a hard time getting her book published and is told to come up with a "better" plot.  The play opens with a musical about her book and she asks "better than what, better than this dazzling plot?"  In an era when women were to do as they were bid, Jo reaches high, and she is confident, she will attain what she is reaching for.
While Jo finds solace in her writing, her younger sister Amy (superbly played by Arielle Fishman) is both jealous of Jo and desirous of what may be within Jo's reach.  Amy is vivacious and full of life.  When Jo and eldest sister Meg are invited to their first Ball, Amy is so jealous that she burns to ashes, Jo's half written novel.  Jo sings "I will never fall asleep again" and it falls on Marmee to make peace between the two sisters.  Sharon Rietkerk plays the oldest sister, Meg, who is the family beauty, is simple, sweet and easily falls in love with John Brooke (played by Justin Buchs), and Julia Belanoff does a fabulous job as Beth, the youngest sister who is sweet, sensible, satisfied with her herself and sadly succumbs to an illness.
Little Women is a story of the four sisters, growing up, finding love, rejecting love, supporting one another through life's trials and tribulations, getting beaten down by life's struggles, overcoming them, attaining their dreams, and holding the family together by a tie that binds.  Matt Dengler (as Laurie, grandson of the March family's neighbor), Richard Farrell (as the old and crusty neighbor with a soft heart), Justin Buchs (as Laurie's tutor), and Christopher Vettel (as Jo's professor) have played their roles nicely and they add the right touch of yang to the yin of the March women.  I love the cast in this play and Elizabeth Palmer as stern Aunt March is also wonderful.
But it is fantastic Emily Koch as Jo, whose performance makes this a show to remember.  There are many warm, funny, sweet moments in the play that the sisters enjoy.  And yet, in the end, it is the heartbreak that ignites Jo to write a novel that brings her recognition and fame, and it is her writing that helps her overcome the heartbreak, and adapt to the changing family.
This is a beautiful not-to-miss play of the season, to start off the holidays filled with family celebrations.  The opening night performance was completely sold out and the audience gave a standing ovation.  Book your tickets early at http://www.theatreworks.org .