Posts Tagged "Little Women"
Director Greta Gerwig's adaptation of Louisa May Alcott's classic novel "Little Women" is a heart warming story of tender ties of sisterhood. The story weaves in and out of past and present events in the lives of four March sisters, passionate and fiercely independent Jo March (Saoirse Ronan), wise and practical eldest sister, Meg March (Emma Watson), tender, shy and deeply caring, Beth March (Eliza Scanlen), and artistic one with a flair for dramatics, Amy March (Florence Pugh).  This talented cast is further enhanced with Laura Dern as infinitely patient, wise and loving, Marmee, Timothee Chalamet as Laurie, their neighbor, and Meryl Streep as deliciously sharp and judgmental, Aunt March.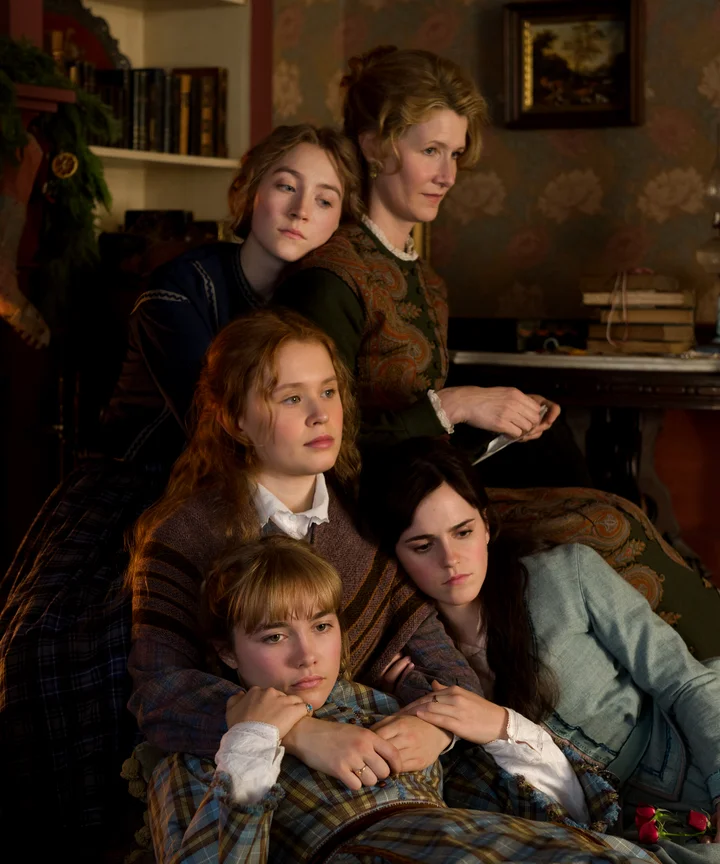 Alcott herself was a fascinating woman who served as a nurse during the Civil War, survived typhoid fever, took lessons from Henry David Thoreau, was an abolitionist and feminst and remained unmarried and was committed to her writing throughout her life. In LIttle Women, she raises questions pertinent to women's rights and society's expectations of how women should live their lives. Her characters raise these issues in a candid and forthright manner.  Gerwig's masterful adaptation of this timeless classic is not only bold but beautiful; it's not just a story of life and death, but story of life, energy and hope; not just a story of adapting to change but staying true to one's mission.  Previously having seen the theater version (http://bit.ly/2QqNTNN), I recently saw the entire television adaptation series of Little Women, on PBS. It was a treat to see this beautiful movie on the silver screen, while the characters were so fresh in my mind. (Image courtesy Lydia Wang's article on Entertainment).
Heroines in Little Women don't hesitate to have big dreams and voice big ideas as in "I'd be respected, if I didn't feel loved"; and "girls have to go into the world and make up their own minds about things". Gerwig has injected freshness and vitality and love into this timeless classic. Last 30 minutes of the film is just priceless. As you settle into the rhythm of life of March household, you are so uniquely drawn into their home that when it ends, you feel you are walking away from a family, you're certain to meet again soon.  
It was so nourishing to my soul, today it was just what I needed. On a scale of 1 to 5, with 5 being excellent, I rate the movie 4.8.
Theatreworks Artistic Director, Robert Kelley has done a stunningly job in directing the musical, "Once on this Island", originally from the Tony Award winning creators of Ragtime.  This musical springs from a Caribbean legend about a little orphan girl, Ti Moune (Khalia Davis), whose parents die in a horrible storm that she survives.   She is adopted by the peasant couple, Mama Euralie & Tonton Julian (Dawn L. Troupe & Berwick Haynes) and raised in the village where everyone dances with abandon, sings with everything they've got, uses herbs to heal, lives in harmony with nature, and seeks to appease the Gods of death, earth, water, and love (Max Kumangai, Safiya Fredericks, Omari Tau, and Adrienne Muller).  Entire cast is superb and performs beautifully.  I, particularly loved Adrienne Muller.
Ti Moune grows into a gorgeous and spunky young lady (Salisha Thomas).  She continues to be haunted by the death of her parents and wonders what her purpose in life might be for which the Gods might have meant for her to live.  She rescues a wealthy aristocrat from a near fatal car crash.  She cleans his wounds, applies ointments, and keeps steadfast vigil, for him to recover.  She regards him as the love of her life and comes to believe that the Gods kept her alive, so that she may help him heal and survive.
This timeless tale is filled with joy, romance, adventure, entrenched prejudices, and heartache.  All human feelings find expression in amazing lyrics (by Lynn Ahrens) with heart pulsating, irresistible Caribbean drum beats, (by Stephen Flaherty).  William Liberatore is the Musical Director.  He was also musical director for absolutely fabulous production of "Little Women" http://bit.ly/1cmVLl6 at Theatreworks, in December, 2013.
The credit for making this musical a spell binding on-stage performance, goes to the Stage Manager Randall K Lum, Assistant Stage Manager Jannette Cote, Scenic Designer, Joe Ragey, Costume Designer, Cathleen Edwards, and Lighting Designer, Pamila Z. Gray.  Together they have created magic, on stage.  The scenes come alive with ferocious storm, enchanting jungle with frogs and trees, and beautiful village with little lanterns that contrasts with the life of the aristocrat lover, in the city.  For tickets, go to www.theatreworks.org
Director Robert Kelley has done it again; a superb job of bringing the classic "Little Women" by Allan Knee, based on the original novel by Louisa May Alcott, on stage at www.theatreworks.org .   This classic tale of four sisters is brought on stage in the form of a musical, with lovely lyrics by Mindi Dickstein and music by Jason Howland, under musical director, William Liberatore.  It is playing in Palo Alto, at Lucie Stern Theater, until January 4, 2014.  The play is set in 1868, during the time of the civil war, in New England.  Costume Design befitting the period is beautiful and the credit goes to Fumiko Bielefeldt and creative scenic design is by Joe Ragey.
Alcott wrote the novel "Little Women", based on familiar references from her own life.  In the play, the father of four girls (the March sisters), is away, fighting in the war, leaving their mother, Marmee, (beautifully played by Elizabeth Ward Land) to run the household full of four young women.   Emily Koch is absolutely stupendous as Jo the second sister, an aspiring writer, who is feisty, a non conformist, loves books, and spurns traditions.  Jo has a hard time getting her book published and is told to come up with a "better" plot.  The play opens with a musical about her book and she asks "better than what, better than this dazzling plot?"  In an era when women were to do as they were bid, Jo reaches high, and she is confident, she will attain what she is reaching for.
While Jo finds solace in her writing, her younger sister Amy (superbly played by Arielle Fishman) is both jealous of Jo and desirous of what may be within Jo's reach.  Amy is vivacious and full of life.  When Jo and eldest sister Meg are invited to their first Ball, Amy is so jealous that she burns to ashes, Jo's half written novel.  Jo sings "I will never fall asleep again" and it falls on Marmee to make peace between the two sisters.  Sharon Rietkerk plays the oldest sister, Meg, who is the family beauty, is simple, sweet and easily falls in love with John Brooke (played by Justin Buchs), and Julia Belanoff does a fabulous job as Beth, the youngest sister who is sweet, sensible, satisfied with her herself and sadly succumbs to an illness.
Little Women is a story of the four sisters, growing up, finding love, rejecting love, supporting one another through life's trials and tribulations, getting beaten down by life's struggles, overcoming them, attaining their dreams, and holding the family together by a tie that binds.  Matt Dengler (as Laurie, grandson of the March family's neighbor), Richard Farrell (as the old and crusty neighbor with a soft heart), Justin Buchs (as Laurie's tutor), and Christopher Vettel (as Jo's professor) have played their roles nicely and they add the right touch of yang to the yin of the March women.  I love the cast in this play and Elizabeth Palmer as stern Aunt March is also wonderful.
But it is fantastic Emily Koch as Jo, whose performance makes this a show to remember.  There are many warm, funny, sweet moments in the play that the sisters enjoy.  And yet, in the end, it is the heartbreak that ignites Jo to write a novel that brings her recognition and fame, and it is her writing that helps her overcome the heartbreak, and adapt to the changing family.
This is a beautiful not-to-miss play of the season, to start off the holidays filled with family celebrations.  The opening night performance was completely sold out and the audience gave a standing ovation.  Book your tickets early at http://www.theatreworks.org .