Posts Tagged Lance Gardner
The 39 Steps is a theatrical spoof on the 1915 novel by John Buchan and the 1935 film by Alfred Hitchcock. Authors of the parody, Simon Corble and Nobby Dimon envisioned the theatrical spoof in 1996 and was later rewritten by Patrick Barlow, with four people playing many roles. At Theatreworks, Lance Gardner, Ron Campbell, Cassidy Brown, and Annie Abrams do a fabulous job of quick role changes as the fast paced spoof moves on, drawing the audience into the murder mystery, with a twist. 
As the story evolves, Richard Hannay, a man with a boring humdrum life meets an exciting woman who confides in him that she is a spy and requests him to take her to his home. Soon she is mysteriously murdered at his home, leaving the bewildered and scared Hannay to go on the run, both from law enforcement and the people who murdered the spy woman. As Hannay expected, he is accused of murder. As he goes on the run in search of the murderers, Hannay has encounters with constables, spies, village farmers, traveling salesmen, inkeepers, newsboys and he crosses streams, assumes false identity, meets a blonde and even dangles from the bridge.  All this makes for lavishly theatrical and hugely hilarious production. 
The 39 Steps at Theatreworks, mixes an engrossing masterpiece with juicy characters and hilarious role changes with exciting staging by Leslie Martinson, perfect scenic designs by David Lee Cuthbert, and all the excitement unfolds inside a fast paced whodunit murder mystery, brilliantly directed by Leslie Martinson. This play has been extended to run through September, 22 and tickets are available at www.theatreworks.org .
"Skeleton Crew" by playwright Dominique Morisseau, currently playing at Lucie Stern Theater in Palo Alto is a joint venture between Mountain View's TheatreWorks Center for Performing Arts and Mill Valley's Marin Theatre Company. Directed by Jade King Carroll, the play is set in in 2008, in the break room of an auto manufacturing plant in Detroit. By then Detroit had already begun the deep slide into the recession and as the play opens we can sense palpable tension among the employees, surrounding the possible but yet unannounced plant closure.
We often hear about the statistics of a major economic downturn, for instance, between 2007 and 2009, Michigan lost over 30,000 auto jobs and lost over 700,000 of its population (due to move and other factors), and between 2003 and 2009, Michigan's GDP shrunk dramatically and its private sector unemployment declined by over 13%. However, it is not often that we get to reflect on the massive human impact of such dramatic economic downturn, where ordinary people taking pride in their ordinary everyday jobs, experience homelessness, or consider walking around with guns for protection as crime spikes, or are walking around stressed out because of the impending uncertainty.  
Leslie Martinson deserves great kudos for finest cast of characters, who all happen to be black, reflecting the reality on ground in Detroit.. Faye (Margo Hall) has worked at the plant for 29 years. She ignores her own troubles as she generously goes around fighting on behalf of her coworkers, even as she feels deep empathy for the plant manager. The plant manager Reggie (Lance Gardner) walks a fine line between towing the company line on behalf of the management, while feeling responsible for the impact of ongoing uncertainty on the lives of the employees, with many of whom he has strong bonds. Dez (Christian Thompson) is a volatile young man, suspicious of the motives of the management and afraid of the increase in crime in his neighborhood. Shanita (Tristan Cunningham) is a pregnant young mother who has a cutting sense of humor and takes enormous pride in "building something meaningful". She just can't afford to lose the benefits as her baby is due to arrive any day.
These are people whose lives will likely be wrecked and in the play, we get a window into just that short period when they are trying to ignore the stress of uncertainty, going about doing  their jobs, arguing about who stole the food, jovially pulling each other's legs and the impending chaos that will soon hurtle them from camaraderie and collegial support into homelessness, sleeping on the couch, and all the related impact of stress on their families.
The management can lessen the human impact by announcing the plant closure earlier to give people opportunities to plan. However, management has their own selfish motives to keep it a secret. The uncertainty erodes trust among the employees and between the employees and the plant manager; also leads to theft by someone presumed to be a disgruntled employee and there are rumors of someone bringing a gun to work. In the midst of all the chaos and uncertainty, people still manage to find strength to survive, to be there for one another, to speak up for each other and ultimately to sacrifice their own comfort and happiness for a colleague they cared for.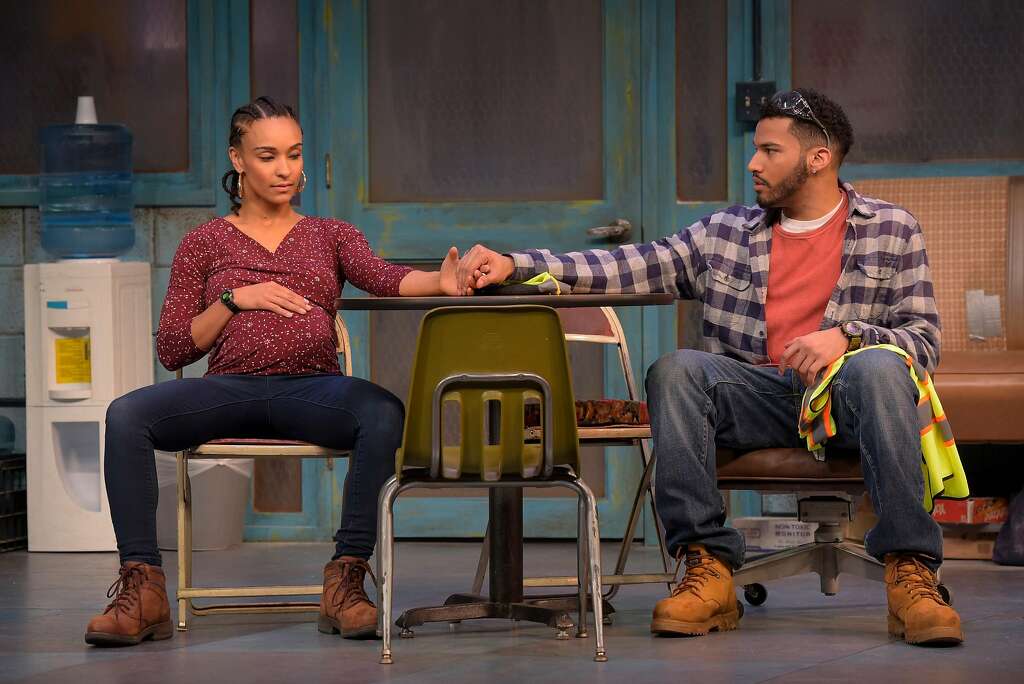 At its heart, this is a heart-rending human story that is lived again and again; made even more relevant during the current turbulent times when the gulf between the haves and the have-nots is not only widening but with total ignorance of the top tier to listen to their plight and offer real solutions, it is likely to widen even more, and there will likely be more people living through these tragic experiences.  This is a not-to-miss play of this theater season in the  bay area, and will be running till April 1, 2018 at Lucie Stern Theater in Palo Alto. Tickets will be available at www.theatreworks.org .
Proof, one of the longest running Broadway play, and winner of Tony award for Best Play and the Pulitzer Prize for Drama, is into its last week at  www.theatreworks.org .  Don't miss the last chance to see this play at Theatreworks, a nationally acclaimed theatre of Silicon Valley.  Under the helm of Artistic Director, Robert Kelley, Theatreworks has hosted world and regional premieres and has brought bold and diverse performances and Proof is no exception.
Proof by David Auburn, directed by Leslie Martinson, is emotionally intense and intellectually stimulating.  Catherine (Michelle Beck) had been the caretaker of her late father, Robert (L. Peter Callander), who was once a brilliant and revolutionary mathematician but had lost his mind in his later years.  Flash-back conversations between father and daughter are witty and stimulating.  
Catherine has spent some exhausting years caring for her father and upon his passing away, is engulfed in intense grief, when her bossy sister Claire (Ashley Bryant) shows up.  Meanwhile, their father's former student, Hal (Lance Gardner) seeks Catherine's permission to look through her father's notebooks, in the hope of finding some complex math solutions that Robert might have worked on during his lucid phases.  Hal wants to unearth any legacy that Robert may have left behind, that may the potential to alter the field of mathematics forever.  
When Catherine points Hal to a notebook that lays out the complex "proof" for unsolvable and hugely complex math problem, Hal is astounded by the marvelously cogent way it is laid out.  Hal and Claire immediately jump to the conclusion that it is the work of Robert, presumably done when he was in sound mind.  Despite Catherine's insistence that she was the author of this mathematical solution, they refuse to believe her and demand "proof" that she was the author.  
Interwoven in Claire's refusal to accept that the mathematical proof was written by her brilliant sister Catherine, is their conflicting sibling relationship.  Claire is not as bright as Catherine, but she holds it together, she is the elder sister, she is the practical one, and she has come to settle the property issues, sell the house, and take Catherine with her to Chicago, where she can keep an eye on her younger sister.  Catherine, on the other hand, put her dreams of going to college on hold as she took care of her dying father.  Catherine is intellectually brilliant and yet she is mentally fragile.  Claire refuses to believe that her mentally fragile younger sibling could have worked on highly elegant math solution.  There is a clash between the concept of accepted idea of intelligence, as being practical, holding life together, and making rational decisions, with that of pure genius, mathematical wit, and search for comfort in the elegance of numbers. 
Embedded in Hal's refusal to accept that Catherine is the author of the cogent and elegant math solution, is Hal's notion about women's capability and his stereotypes about gender.  Catherine and Hal have a complex relationship.  On one hand, their flirtation could have  lead to something deeper, whereas at one point, it seems that any chance of deeper ties forged by their mutual love for numbers, may be permanently marred by Hal's refusal to believe that Catherine could have written the "proof" .  
As Hal and Claire demand "proof" from Catherine that would show beyond a shadow of doubt that she is the author of the mathematical "proof", the contrast between inductive, objective, logical, mathematical proof and the subjective proof that rests on believing the person one loves along with a certain leap of faith, is sharply evident.   
Proof is running till November 1 and six more shows are remaining.  Buy your tickets at www.theatreworks.org .