Posts Tagged Jade King Carroll
"Skeleton Crew" by playwright Dominique Morisseau, currently playing at Lucie Stern Theater in Palo Alto is a joint venture between Mountain View's TheatreWorks Center for Performing Arts and Mill Valley's Marin Theatre Company. Directed by Jade King Carroll, the play is set in in 2008, in the break room of an auto manufacturing plant in Detroit. By then Detroit had already begun the deep slide into the recession and as the play opens we can sense palpable tension among the employees, surrounding the possible but yet unannounced plant closure.
We often hear about the statistics of a major economic downturn, for instance, between 2007 and 2009, Michigan lost over 30,000 auto jobs and lost over 700,000 of its population (due to move and other factors), and between 2003 and 2009, Michigan's GDP shrunk dramatically and its private sector unemployment declined by over 13%. However, it is not often that we get to reflect on the massive human impact of such dramatic economic downturn, where ordinary people taking pride in their ordinary everyday jobs, experience homelessness, or consider walking around with guns for protection as crime spikes, or are walking around stressed out because of the impending uncertainty.  
Leslie Martinson deserves great kudos for finest cast of characters, who all happen to be black, reflecting the reality on ground in Detroit.. Faye (Margo Hall) has worked at the plant for 29 years. She ignores her own troubles as she generously goes around fighting on behalf of her coworkers, even as she feels deep empathy for the plant manager. The plant manager Reggie (Lance Gardner) walks a fine line between towing the company line on behalf of the management, while feeling responsible for the impact of ongoing uncertainty on the lives of the employees, with many of whom he has strong bonds. Dez (Christian Thompson) is a volatile young man, suspicious of the motives of the management and afraid of the increase in crime in his neighborhood. Shanita (Tristan Cunningham) is a pregnant young mother who has a cutting sense of humor and takes enormous pride in "building something meaningful". She just can't afford to lose the benefits as her baby is due to arrive any day.
These are people whose lives will likely be wrecked and in the play, we get a window into just that short period when they are trying to ignore the stress of uncertainty, going about doing  their jobs, arguing about who stole the food, jovially pulling each other's legs and the impending chaos that will soon hurtle them from camaraderie and collegial support into homelessness, sleeping on the couch, and all the related impact of stress on their families.
The management can lessen the human impact by announcing the plant closure earlier to give people opportunities to plan. However, management has their own selfish motives to keep it a secret. The uncertainty erodes trust among the employees and between the employees and the plant manager; also leads to theft by someone presumed to be a disgruntled employee and there are rumors of someone bringing a gun to work. In the midst of all the chaos and uncertainty, people still manage to find strength to survive, to be there for one another, to speak up for each other and ultimately to sacrifice their own comfort and happiness for a colleague they cared for.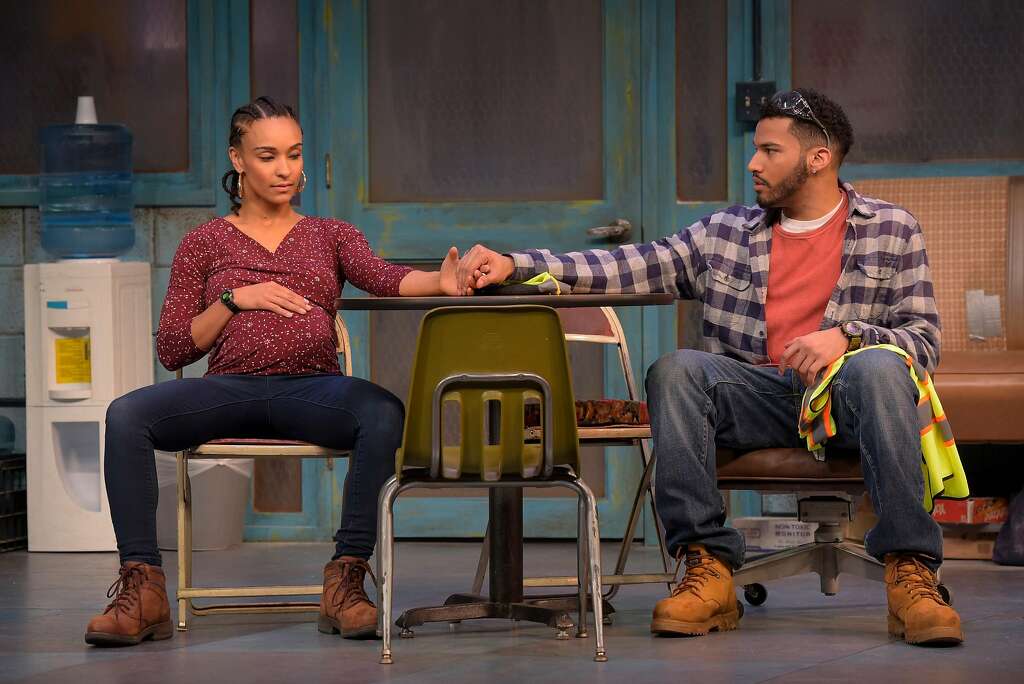 At its heart, this is a heart-rending human story that is lived again and again; made even more relevant during the current turbulent times when the gulf between the haves and the have-nots is not only widening but with total ignorance of the top tier to listen to their plight and offer real solutions, it is likely to widen even more, and there will likely be more people living through these tragic experiences.  This is a not-to-miss play of this theater season in the  bay area, and will be running till April 1, 2018 at Lucie Stern Theater in Palo Alto. Tickets will be available at www.theatreworks.org .