Posts Tagged Dan Hiatt
Girls have dreams too. Seven year old Jerry Cobb (Sarah Mitchell) was obsessed with flying. But in 1960, a time of great social change in American history, certain dreams were still reserved for men. Laurel Ollstein's dramatization of the true story of Jerry Cobb and her female peers in Mercury 13 astronaut training program, is currently playing at theatreworks in Palo Alto. 
Stories of two aspiring women are intertwined in "They promised her the moon".  Jackie Cochran (Stacy Ross) used her wealth and connections and had already made history as a first woman pilot. Later, financed by her husband, she ran a successful cosmetics company. But for most women, these dreams were out of reach. Jackie Cochran had pushed for women to be allowed to fly for the military, and women did fly during the war. But when WWII ended, women were barred from flying most sophisticated planes. 
During that time, as a little girl, Jerry Cobb seemed determined to fly and touch the heavens.  Her pilot father, Harvey Cobb (Dan Hiatt) encouraged and inspired her and taught her some basics about airplanes. Jerry began flying at the age of twelve and by her twenties, she was setting world records in flying speeds, distance, and altitude. Inspired by her predecessor, Jackie Cochran who was pushing for female astronauts, Jerry Cobb enrolled in Mercury 13 program training to send astronauts into space. Jerrie Cobb beat most of her male counterparts as she went through strenuous rounds of tests and invasive physical and psychological evaluations. 
Meanwhile different politics started getting played into the upper echelons of men, status, wealth and political power. Among the first group of astronauts was John Glenn, the new American hero. Given the culture of the time, Glenn and other men felt that since men flew combat missions, they were more equipped to become astronauts. Cochran was the lone woman in the boys club and sought to leverage her power. Cochran wasn't happy that her popularity and status as the first woman pilot was getting replaced with a surge in Cobb's popularity and she perhaps also felt that history would forget her completely if Cobb were to become the first woman astronaut in space. 
Jerry Cobb passed away in 2019. Theatreworks' celebration of Jerry Cobb in "They promised her the moon" reminds us that legacy is not only created with great achievements, but also by those who dare to dream.  Entire cast is marvellous and Sarah Mitchell's performance is truly unforgettable.  Huge kudos to director, Giovanna Sardelli for this fabulous and not-to-miss show.
Unfortunately, to mitigate and contain coronavirus pandemic, Theatreworks is canceling all shows right now so please check the website at http://www.theatreworks.org for updates and stay safe.
During every theater season, I select best plays as not-to-miss plays of the theater season. Right up front, I will say this is a must-see, not-to-miss-play of this theater season.  It is running at theatreworks in Mountain View. Mark Twain's discerning eye and sharp pen is immortalized by master directors, Randal Myler and Dan Wheetman, in this theatrical production.
A musical devoid of any motive, morals or plot has plenty of all that, if you look deep and listen intuitively. Mighty Mississippi is witness to many heartaches, sorrows, and celebrations and there is much to learn. It is indeed America's good fortune that this masterfully witty storyteller also traveled up and down the country. Born Samuel Langhorne Clemens, he took on the pseudonym Mark Twain on the banks of Mississippi, a term to mark when the depth of the water is two fathoms, meaning the vessel is on safe water,
For a short period when Twain worked in the river trade on Mississippi, a river that flows from Northern Minnesota all the way south for 2,320 miles, Twain astutely observed. As he explored America's iconic cultural landscape, winds of change were blowing through the country. In his observations, people working on the river, feeding off of the river, living on the banks of the river, come to life. Stories of the riverboat pilots and brazen gamblers, farm wives who longingly looked back at carefree days as young girls, field hands looking for opportunity to run to freedom somewhere up North, the skillful hardworking lumberjacks and the boatmen all enrich this masterpiece.
In theatreworks musical, Dan Hiatt does a fabulous job as Mark Twain, giving commentary in speech that comes directly from Twain's many novels, lectures, and essays as well as from actual histories on the lives of lumbermen, farmers, slaves, dock workers and others who stayed and toiled on the banks of the river. Big Kudos to Emily Anderson Wolf and Taylor McQuesten for fabulous stage design and to David Lee Cuthbert for brilliant scenic and media design in this journey on the muddy river. 
Of the mighty river Twain says, "you can hang on to her but you can't control her" and "The Mississippi River will always have its own way; no engineering skill can persuade it to do otherwise…."
Music direction by Dan Wheeetman is brilliant. Songs are entertaining….

Well, I went on the mountain
And I gave my horn a blow
Thought I heard some purty gal say
"Yonder come my beau"
Crow black chicken and crow for a day
Crow black chicken and fly away 
There's longing and lament in some of the soulful songs
When I was a single girl, dressed in clothes so fine,

Now I am a married girl, go ragged all the time

Wish I was a single girl again

When I was a single girl, had shoes of the very best kind

Now I am a married girl, go barefoot all the time

Wish I was a single girl again
Some songs offer images of incredibly skilled lumberjacks doing infinitely challenging tasks
Now, boys, if you will listen, T will sing to you a song,
It's all about the shanty-boys, and how they get along;
They are a jovial set of boys, so merry and so fine.
They spend a pleasant Winter, in cutting down the pine.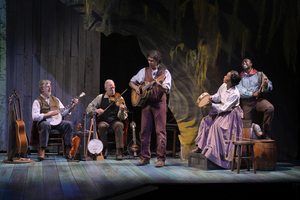 And so the musical continues weaving in stories of
wild lumberjacks, rovin' gamblers, and dreamers of the Delta.
There are farmers, and sailors, likewise mechanics, too,
And all sorts of tradesmen, found with a lumber crew;
The choppers and the sawyers, they lay the timber low.
While the swampers and the skidders, they haul it to and fro.
The cast, Valisia LeKae, Tony Marcus, Rondrell McCormick, Chic Street Man, and Dan Wheetman bring to life all the stories of river folks. They entertain and enthrall, educate and elucidate and keep the audience on the edge of their seats, with foot thumping melodies. 
Indeed America is the land of the free but Twain immortalizes the mighty Mississippi as the waters that carried many slaves to freedom, to the Northern states. 
I'm comin' Lord, for my heavenly reward
I'm comin' home to you, can you see me comin' thru
Thru clouds of persecution, and stumblin' on my way
I 'spect I'm only makin', 'bout a half a mile a day
Masterfully woven into the lyrics below are subtle references to the operatives of the underground railroad and the markings they left on trees and other landmarks to point the way to freedom.
Well the river bank makes a mighty good road
Dead trees will show you the way
Left foot, peg foot, travelin' on
Follow the drinkin' gourd
For the old man is waiting to carry you to freedom
Follow the drinkin' gourd
Well the river ends, between two hills
Follow the drinkin' gourd
There's another river on the other side
Follow the drinkin' gourd
 yearning for more. 
The musical does not have a singular plot, motive, or moral But if you look through Twain's eyes, you shall find plots within plots and plenty of motives and morals. It is small wonder that in Twain's iconic novel, "Adventures of Huckleberry Finn", the river becomes both the setting of the novel and its central theme. And as Huck continues on, charting his own course and defining his own morality, the river carries on, offering both it's umpteen bounty and it's menace.
I wants to go back to Helena, the high waters got me bogged.
I wants to go back to Helena, the high waters got me bogged.
I woke up early this mornin', a water hole in my back yard.
They want me to work on the levee, I have to leave my home.
They want to work on the levee, that I have to leave my home.
I was so scared the levee might break out and I may drown.
Twain said, "Travel is fatal to prejudice, bigotry, and narrow-mindedness". This journey down the Mississippi is an invitation for us to take an honest and also lighthearted look at the world around us. We may learn much and perhaps shed some baggage, if we can travel with Twain for some time, without malice and with genuine curiosity about the world around us.  Mark Twain's River of Song" will be running at Mountain View Center for the Performing Arts, till October 27, 2019. Tickets can be obtained at www.theatreworks.org .