Posts Tagged Climate Change
Parasite is an incredibly awesome film. Winner of best picture and 3 more awards at Oscars; Parasite has also won numerous other awards including at Cannes Film Festival, Academy Award, Golden Globe, BAFTA, Screen Actors Guild and more.
Sometimes I don't get the time to write a review and then I watch something else and then give up on the previous show. But I heard criticism that Parasite was selected at the Oscars to promote diversity (by few who did not watch it). In effect, such criticisms take away from the phenomenal masterclass movie it is. 
So I decided to write the review. But how does one write a review of a movie that has already obtained a whirlwind of publicity, is already a box-office hit? And how does one write a review of a movie that is a tragicomedy mystery, without giving away anything? And how does one write a review of a movie that is an experience to be savored, an experience that touches the soul, broadens the perspective and offers moviegoer an opportunity to look at commonplace events with an alternative perspective than the one that we may be used to? 
Not wanting to just add to the hype, I will not write a lot about the movie here. But briefly, this movie has a rich cast of characters and there is depth in their performances. It offers an opportunity to consider the impact of class differences in a way that is not preachy and without romanticizing the goodness of one class over the other. The movie offers an opportunity to consider the impact of global warming and climate change that affects people differently, depending on their station in life. And then there is a deep innate desire to protect one's family from the ravages of poverty on one hand, to the discomfort of poverty associated sights and smells on the other hand.  And if you choose to ignore all the messages, you can still enjoy the movie at its simplest level, where it is a mystery with many twists and turns, that keeps you on the edge of your seats and is insanely entertaining. The film is a masterful work of art that is also a mainstream crowd pleaser. It is simply impossible to pigeon hole the movie into any pre-determined slots. From the title chosen to the impossible ending, it imbues with meaning.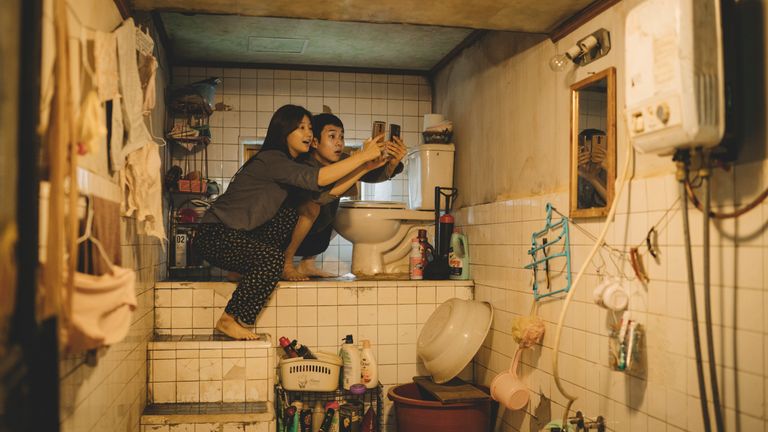 The Guardian describes the movie as the "cinematic equivalent of a Rorschach inkblot test" where you can decide to unravel the layers in the movie, at the depth that is comfortable to you. Kudos to director Bong Joon Ho for amazing direction in this Oscar winning tale with multiple messages. Entire cast is fabulous but specific mention to Woo-sik Choi and So-dam Park for truly phenomenal acting.
All I hope is that people not criticize the movie selection for the Oscars, until they see the movie. Lastly, there really is no point in reading the reviews because no review can do full justice to this soul-stirring tale of blended genres that is beautifully narrated, and is masterfully layered with depth and meaning. For a theatergoer, this is an experience, not to be missed. 
Musical comedy "The Toxic Avenger" based on Lloyd Kaufman's film of the same name, originally derived from book and lyrics by Joe DiPietro and music and lyrics by David Bryan, is currently playing at The stage (www.thestage.org) in San Jose.  It is a silly show tackling a serious subject and features a talented cast that performs zillion roles.  Addressing the issue of climate change, the show shies away from becoming preachy or depressing. It begins with the lyrics
Global warming's up ahead
The experts think we'll all be dead
But they don't know we're here to fight
It is a story of heavily polluted New Jersey town where Melvin Ferd III (Will Springhorn Jr.) resolves to get to the bottom of the cause of pollution and is pitted against town's greedy, power-hungry and seductive mayor Babs (Allison F. Rich) and her gang of thugs. The mayor's for-profit corporation is the cause of town's growing pollution but the mayor is entirely focused on growing her bottom line.
Here's a place between heaven and hell
Don't need a map, just follow the smell
A place filled with filthy air
A place full of dark despair
A place you have no prayer
A place called New Jersey
New Jersey
Jersey, the Garden State
Ther's an exit called the thirteen gee
Right off the turnpike where it smells just like pee
An exit no one dares get off:
An exit where the children cough
When the mayor's thugs and Melvin engage in a fight, Melvin falls into a vat of toxic waste and emerges as a heroic green monster with superior strength. Melvin's nagging mother (also played by talented Allison F. Rich) does not the express slightest shock and instead reiterates her disappointment with her son. Her lack of shock at the sight of her son is shocking in itself and at the same time her superb acting makes it feel like a natural response of a nagging mother to a child not rising up to his talents. It is all hilarious.  Melvin also reconnects with his blind love interest, Sarah (Courtney Hatcher). Sarah does not know that it is Melvin and falls hopelessly in love with who she believes is the superhero who saved her from the town's thugs.
He's strong and sweet and lives with his mother,
He saved my life so there is no other.
Such a man and man is he macho
Spicy cool like a bowl of gaspacho
Someday he's ganna be my big, my big french boyfriend!
But Sarah soon gets an opportunity to touch Melvin's ugly and scarred face and her love abets with the same speed as it had begun to overflow. When scorned by his sweetheart, broken hearted and depressed Melvin goes from being a town hero and a legend to a town pariah. However, Sarah soon changes her mind after she gets a talking-to by Melvin's mother who explains "If blind people don't like ugly people, than who will" and she and Sarah's friends make a practical point that – after all
All men are freaks
It's a burden every woman shares as she travels down life's roads
Superbly directed by Jonathan Rhys Williams, the play is hilariously funny and witty. Cirby Hatano's set is eye catching wasteland with scattered drums of toxic waste. Video design by Vijay M. Rajan occasionally fills the gap in the narrative and adds fantastically funny comic touches. When the fight ensues between the  hero and the thugs, blood is scattered or limbs are severed on the projected screen rather than on the set. The 80s style rock style songs are played by an onstage rock band directed by Brian Allan Hobbs.
The Toxic Avenger is produced at San Jose Stage at a critical time in our history, when depressing developments on the issue of climate change makes us feel both upset and helpless. Toxic Avenger is just the hero we need to transport us for a short while, to a place where we are not entirely helpless, and our righteous commitment enables us to find love and perfect solution for the cause of climate change. The Toxic Avenger will be playing at the Stage in San Jose until July 16, 2017 and tickets are available at www.thestage.org .
The film "Inequality for All" premiered at the 2013 Sundance Film Festival and won a U.S. Documentary Special Jury Award for Achievement in Filmmaking.  Huffington Post calls it a "must-see movie" and according to Variety, this film "does for income disparity what "An Inconvenient Truth" did for Climate Change"; a deeper understanding of the issues and meaningful conversations around some action.  How cool that our local community college hosted the screening and fabulous panel discussion, following the film!  DeAnza College at Cupertino is a model in providing top notch all-rounded education experience, with opportunity for civic and community engagement.  Economic disparity is a very real problem in our society and here is a link to my previous blog on this issue and the huge fragmenting impact of economic disparity on the fabric of our families and communities – http://bit.ly/AwLq7G .
In "Inequality for All", economist, author, professor and former labor secretary, Robert Reich examines the widening income disparity in the US, and discusses its impact on our society, and on our democracy.  So how wide is the gap?  In 2011 broadcast of "The Daily Show", Jon Stewart cited a CIA Gini Index in which the United States ranked 64th in income inequality (worse than Cameron, but just above Uraguay).  Later CIA revised the figures, but as Robert Reich explains in the film, 400 people in the US have more wealth than half the population of the US.  Reich examines the years leading up to the crash in 1928, and in 2007, and finds striking parallels.
President Reagan's economic policy was based on reducing growth of government spending, reducing federal income tax, reducing capital gains tax, reducing government regulation, and tightening the money supply to reduce inflation.  The very wealthy often made their money in capital gains, and at 15% rate, frequently pay less in taxes than the average Americans.  When wealthy do not pay higher taxes, the middle class gets stagnated.  When middle class is squeezed, it stops spending, stops buying, and there is less revenue for states, for public institutions.  This results in cost of higher education going up, higher school dropout rate, less skilled workforce, more jobs going abroad, higher unemployment and so on.
It is a misnomer to believe that when the very wealthy have more money, they would spend more and hire more.  They may buy 3 more cars or 5 more pairs of jeans.  But in the end, there is only so much they can buy, compared to a mass of middle class people.  The more wealth they accumulate, the very wealthy invest in speculative assets, in gold, housing, and/or invest it abroad.  That is exactly what happened in the years preceding the crash in 2007.  The financial sector ballooned and greater deregulations helped the speculative assets to grow.
Meanwhile, the average American worker was struggling to keep up.  Not wanting to get locked out of the American dream, middle class families too were buying homes.   While middle class salaries had stagnated, two income families grew, and many people were working two and three jobs, in addition to borrowing heavily (often against the equity in their homes), just to make ends meet.  With greater deregulations, union bashing, and union squashing, increasingly their voices were not heard.  In 1992, President Bill Clinton promised to cut taxes for the middle classes, and make the very wealthy pay their fair share.  He also promised to contain outrageous executive pay.  Many executives then began to get paid in stock options which further fueled the growth of speculative assets.  Government sets the rules by which the markets function, says Reich.
Big corporations are simply not designed to generate jobs.  They operate with focused objectives of making profit and delivering value to the shareholders.  Technology and globalization enable big corporations to take the jobs away from average American workers and go to the regions of the world, where labor supply is cheaper.  Who looks out for the average American worker?  The answer is "nobody", says Reich.  President Clinton's policies did nothing to stop the downward spiral of the middle class.  The eventual economic crash further harmed the middle class families.  Many of them cannot afford to stay in their homes and resulting pressure often fragmented or broke up families.  Please do check out my previous blog on its devastating impact on our families – http://bit.ly/AwLq7G .  The very wealthy do not benefit when things get so dire for the majority. Reich makes the points emphatically, citing data and sources to bolster his perspectives and with appropriate amount of humor.
Panel Discussion
This much is clear from the film that this growing income disparity is lethal for a society and for the democracy.  People are polarized and on edge.  No one benefits from it.  In the end, it also hurts the very wealthy.  What communities would they live in when the teachers, the grocery store clerks and others cannot afford to live in the same communities?  But how can average Americans take back their voice and get heard?  What can they do?  The panel discussion that followed the film was enlightening and heart warming.  The panelists included Professor Ben Pacho, Professor Jim Nguyen, President of De Anza College, Dr. Brian Murphy, Dr. Crystallee Crain, and Dr. Cynthia Kaufman.
Dr. Murphy advised that we not just focus on marginal shifts but focus on the big picture and reclaim public institutions.  He suggested we learn about power and leverage the capacity to build coalitions by forging connections across diversity of race, gender, and cultures, to focus on the true cause.  It might be a long struggle but with unity, we can counterbalance the power of money.  Dr. Kaufman (author of "Ideas for Action" and "Getting Past Capitalism", added that we need to focus on building deep, authentic relationships with each other and with "stuff" so that we end up requiring less stuff.  According to Dr. Crain, we need to overcome apathy and Professors Pacho and Nguyen emphasized the need to get involved in the community.  All panelists emphasized they would not want to see the students getting burnt out.  In fact, Dr. Murphy talked about the power of "random episodic silent thinking" or rest!  He said, no one can do any kind of community or activist work, if they do not deeply love.  This love may be for someone or something but deep affection anchors the values and purposefulness and provides the drive to be involved in things one cares about.  It may not be everything that we all can take on.  But apathy just won't do.  Each of us can take on and contribute to something we deeply care about so we can leave the world a better place.