Posts Tagged class differences
Parasite is an incredibly awesome film. Winner of best picture and 3 more awards at Oscars; Parasite has also won numerous other awards including at Cannes Film Festival, Academy Award, Golden Globe, BAFTA, Screen Actors Guild and more.
Sometimes I don't get the time to write a review and then I watch something else and then give up on the previous show. But I heard criticism that Parasite was selected at the Oscars to promote diversity (by few who did not watch it). In effect, such criticisms take away from the phenomenal masterclass movie it is. 
So I decided to write the review. But how does one write a review of a movie that has already obtained a whirlwind of publicity, is already a box-office hit? And how does one write a review of a movie that is a tragicomedy mystery, without giving away anything? And how does one write a review of a movie that is an experience to be savored, an experience that touches the soul, broadens the perspective and offers moviegoer an opportunity to look at commonplace events with an alternative perspective than the one that we may be used to? 
Not wanting to just add to the hype, I will not write a lot about the movie here. But briefly, this movie has a rich cast of characters and there is depth in their performances. It offers an opportunity to consider the impact of class differences in a way that is not preachy and without romanticizing the goodness of one class over the other. The movie offers an opportunity to consider the impact of global warming and climate change that affects people differently, depending on their station in life. And then there is a deep innate desire to protect one's family from the ravages of poverty on one hand, to the discomfort of poverty associated sights and smells on the other hand.  And if you choose to ignore all the messages, you can still enjoy the movie at its simplest level, where it is a mystery with many twists and turns, that keeps you on the edge of your seats and is insanely entertaining. The film is a masterful work of art that is also a mainstream crowd pleaser. It is simply impossible to pigeon hole the movie into any pre-determined slots. From the title chosen to the impossible ending, it imbues with meaning.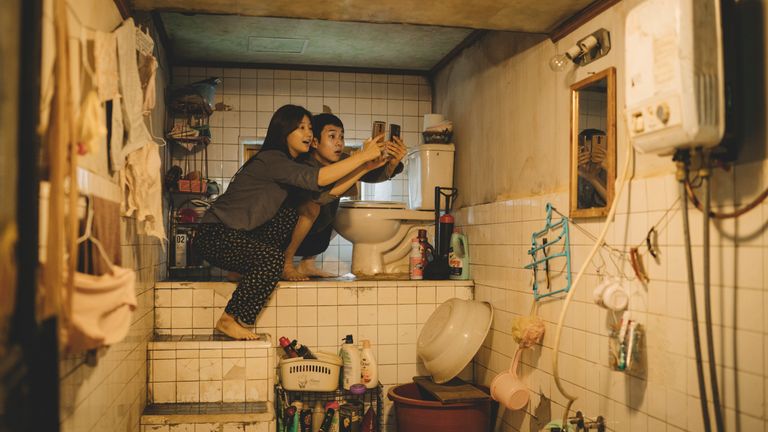 The Guardian describes the movie as the "cinematic equivalent of a Rorschach inkblot test" where you can decide to unravel the layers in the movie, at the depth that is comfortable to you. Kudos to director Bong Joon Ho for amazing direction in this Oscar winning tale with multiple messages. Entire cast is fabulous but specific mention to Woo-sik Choi and So-dam Park for truly phenomenal acting.
All I hope is that people not criticize the movie selection for the Oscars, until they see the movie. Lastly, there really is no point in reading the reviews because no review can do full justice to this soul-stirring tale of blended genres that is beautifully narrated, and is masterfully layered with depth and meaning. For a theatergoer, this is an experience, not to be missed.