Posts Tagged Cannes Film Festival
Parasite is an incredibly awesome film. Winner of best picture and 3 more awards at Oscars; Parasite has also won numerous other awards including at Cannes Film Festival, Academy Award, Golden Globe, BAFTA, Screen Actors Guild and more.
Sometimes I don't get the time to write a review and then I watch something else and then give up on the previous show. But I heard criticism that Parasite was selected at the Oscars to promote diversity (by few who did not watch it). In effect, such criticisms take away from the phenomenal masterclass movie it is. 
So I decided to write the review. But how does one write a review of a movie that has already obtained a whirlwind of publicity, is already a box-office hit? And how does one write a review of a movie that is a tragicomedy mystery, without giving away anything? And how does one write a review of a movie that is an experience to be savored, an experience that touches the soul, broadens the perspective and offers moviegoer an opportunity to look at commonplace events with an alternative perspective than the one that we may be used to? 
Not wanting to just add to the hype, I will not write a lot about the movie here. But briefly, this movie has a rich cast of characters and there is depth in their performances. It offers an opportunity to consider the impact of class differences in a way that is not preachy and without romanticizing the goodness of one class over the other. The movie offers an opportunity to consider the impact of global warming and climate change that affects people differently, depending on their station in life. And then there is a deep innate desire to protect one's family from the ravages of poverty on one hand, to the discomfort of poverty associated sights and smells on the other hand.  And if you choose to ignore all the messages, you can still enjoy the movie at its simplest level, where it is a mystery with many twists and turns, that keeps you on the edge of your seats and is insanely entertaining. The film is a masterful work of art that is also a mainstream crowd pleaser. It is simply impossible to pigeon hole the movie into any pre-determined slots. From the title chosen to the impossible ending, it imbues with meaning.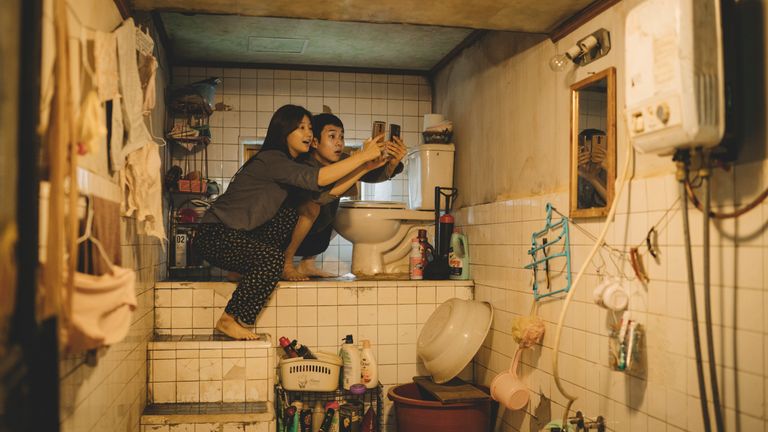 The Guardian describes the movie as the "cinematic equivalent of a Rorschach inkblot test" where you can decide to unravel the layers in the movie, at the depth that is comfortable to you. Kudos to director Bong Joon Ho for amazing direction in this Oscar winning tale with multiple messages. Entire cast is fabulous but specific mention to Woo-sik Choi and So-dam Park for truly phenomenal acting.
All I hope is that people not criticize the movie selection for the Oscars, until they see the movie. Lastly, there really is no point in reading the reviews because no review can do full justice to this soul-stirring tale of blended genres that is beautifully narrated, and is masterfully layered with depth and meaning. For a theatergoer, this is an experience, not to be missed. 
Rangmunch screened the film, "The Journey To Her Smile" at ICC, Milpitas, CA by playwright, producer and director, Suchita Phule. This film was screened in Jakarta's famous festival, the International Film Festival for Women, and was most recently screened at Cannes Film Festival, to great accolades.
The film focuses on girls' and women's abuse in India. Young middle class couple, Revati and Aditya Deshmukh (Girija Oak and Aastad Kale), with their 5 year old daughter, Anaya were living a picture perfect life, before calamity struck. Mother, Revati Deshmukh (Girija Oak) says, "our little world was filled with small joys". After eight years of marriage, spark was not only alive but was constantly lit between the young couple, and little Anaya was the center of their life.
But Revati's world falls apart one day. Unable to express her deep anguish and feelings of guilt, Revati is hovering on the edge of a psychological disorder. As a husband and father, protector of the family and Revati's soulmate, Aditya feels helpless.  Aditya tries his best to help get Revati's and his family's life back on track. Meanwhile Revati's own struggle on this path is — The Journey To Her Smile.
India has recently gained notoriety as one of the most dangerous places for women and girls. It bears repeating that little girls are often victims of horrendous and lewd behavior from men. And sometimes little girls are victims of rape by old men, as indicated by recent case of #ChennaiHorror where a young girl was raped for several months by 22 men, some as old as 60. But while the world reverberates in shock at such news, sometimes victim gets some needed help, but we rarely pay attention to family members who have a difficult journey of their own to mend their broken hearts, to pick up the pieces, to move on, to proclaim their own smiles back, and thus their control over their lives back.  Sometimes, a victim herself may be able to move on, but a family member, often a mother, may sink deeper into the anguish.
Suchita Phule has done absolutely fabulous job in what began as a short film and ended up as a full length feature film, in depicting the far reaching impact of abuse that goes beyond the victim who is directly targeted by the perpetrators. Girija Oak plays her role, part bubbly joyous young wife and mother, and part her melancholy woman role, with great aplomb. Flecked with sadness and steel, desperation and determination, she makes her difficult journey to claim her smile back, because in the end, "no one else can do it for you, you have to stand up for yourself and move on".  Kudos to Rungmunch (www.rungmunch.org) Theater with a Cause and organizers Smita Karhade and Madhav Karhade for organizing this fabulous screening and for supporting quality live theater and film events in the bay area; because story-telling has a power to change the world.
Also sharing link to my little poem here http://bit.ly/WyY4zf
Dynamics of power are always infinitely interesting.  Add to the mix, sexuality, erotica, and pure physical attraction, and you have a volatile mix, perfect for a theatrical production.  San Jose Stage had a full house on the opening night of David Ives' "Venus in Fur".  Tony nominated Best Play (2012), has received multiple awards and has also been made into a Roman Polanski film, which premiered at the 2013 Cannes Film Festival.
Vanda, an aspiring actress arrives late for her audition for a play based on the nineteenth century erotic novel, when Thomas Novacheck, a playwright-director is about to leave.  Thomas is condescending, he talks over Vanda, interrupts her, and does not believe she has the capability for the role.  To his credit, Vanda seems totally unprepared, unprofessional, is spewing curses, is bursting with energy, even erotic energy, and seems an unlikely candidate for the role.  The power dynamics are in favor of Thomas and notwithstanding her many challenges of coming for an audition on a rainy, stormy day, he is about to throw her out, but gets interrupted by a phone call from his fiancee.
Vanda seizes the opportunity and steps into a costume to begin her reading.  As they do the reading, Thomas discovers, to his great dismay, that not only has Vanda come prepared with props and costumes for both, but almost seems to have mastered the play, literally and in spirit.   A prepared employee can have the boss wrapped around her finger and the power dynamics shift again.  The source material for the play comes from 1870 novel, Venus in Furs by Austrian author Leopold von Sacher-Masoch, which also happens to be the origin of the term "masochism".  
As the reading progress, the power dynamics shift again and then again, as Vanda and Thomas step in and out of their roles as Dunayev and Kushemski and step back into character, almost seamlessly but also quite discerningly, if that is possible.  Dunayev says, "Why should I forgo any possible pleasure, abstain from any sensual experience?  I''m young, I'm rich, and I'm beautiful and I shall make the most of that.  I shall deny myself nothing."  Ahhh the reach of power that comes with it all.  But then again who wields the power, one who writes the script or one one who plays along?
As the reading progresses, they share their histories, their kinks, pulled by magnetic attraction towards each other, they fight it when out of character, but fully exploit it, in character.  They concede that while people may render themselves explicable, people do not find themselves easily extricable  And these stories where people are unable to extricate themselves, make for great theatrical productions in capable hands like Director Kimberly Mohne Hill and actors Johnny Moreno (as Thomas and Kushemski), and Allison F. Rich (as Vanda and Dunayev).  Venus in Fur is running at The Stage in San Jose, till March 1.  For tickets, please go to www.thestage.org .