Posts Tagged Belgium
The poem below is dedicated to the victims and families of #BrusselsAttacks, as peace loving people all over the world stand in unison with Belgium, as people change their profile pictures in Belgium colors, as people in Brussels open their homes for travelers stuck with nowhere to go, and as heart-wrenching photos, messages, prayers, and vigils pour in from Bombay to Belgium, from Peshawar to Paris, there is only one message for terrorists – your victory is short, you will never prevail.   
If wins are counted in numbers left dead
Today you succeed, with your bigotry
If success is measured in pints of blood
As streets run red, revel in your victory
But short-lived are your pleasures of hate
You must kill yourself, so others may die
Follow to its natural conclusion, and mate,
At bleakest dead-end, you may arrive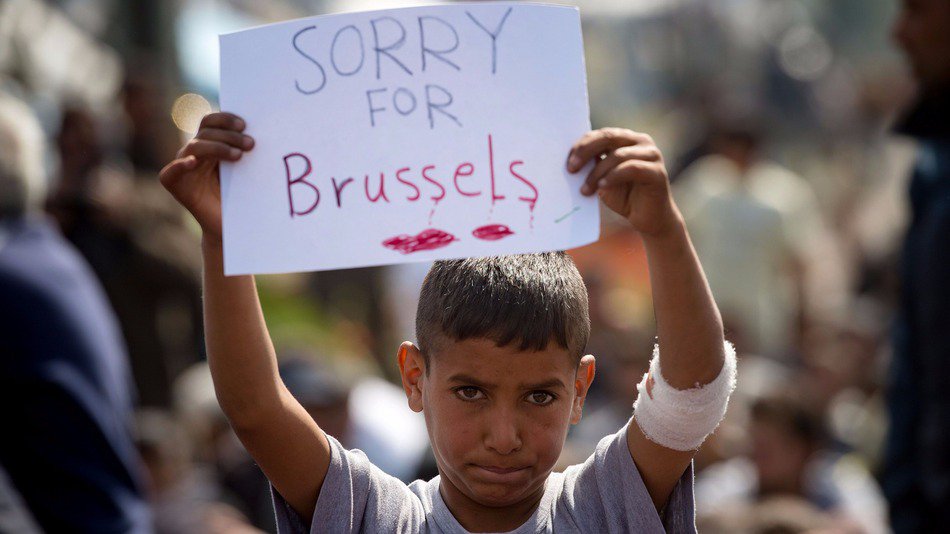 Yes short-lived are your pleasures of hate
Yourself you kill, so in peaceful slumber, others lie
Death has you marked as prime target
Wretched your life, short your joyful glee, sigh!
You can't teach, preach, sermonize, you're through!
You can't sow more hate. Future won't wait for you.
Here is link to my poem written for victims of #PeshawarAttack  http://bit.ly/1wfp47D .
In World Premiere of "Truce: A Christmas Wish from the Great War", at CityLights Theater in San Jose, through telling of the story of the historic event that occurred in December 1914, both the mindlessness of war and the mindfulness of peace, become abundantly evident.   Playwrights Jeffrey Bracco and Kit Wilder have made this historic story personal, by telling it through four main characters, George Krieger (Max Tachis), the German patriotic soldier, fighting for honor, glory, and fatherland; Anna Friedmann (Cailin Papp), the German nurse who questions the wisdom of war; Tommy Williams (Drew Benjamin) English poet who is compelled to go to war by parental pressure and also pulled to write and pulled by his love for his young wife and by his friendship with Krieger; and Maggie Williams (Allison Meneley), young wife of Tommy who encourages him to write and waits for his return from war.
A little piece of history along with the events in the play
This history was also expertly and succinctly narrated at the  beginning of the play.  The world was polarized and battle lines were drawn, long before the actual event that ignited the region, the assassination of Austrian Archduke Ferdinand, in Sarajevo in June, 1014.   As Austria-Hungary declared war on Serbia, Russia (Serbian ally) mobilized its military.  Like a game of dominoes, one by one the countries were pressured or pulled into the war, as Germany declared war on Russia, France, and Belgium; Britain declared war on Germany; soon thereafter, Japan, Turkey, and the Ottoman Empire entered the fight; and ultimately US entered the war in 1917.  Ultimately, 70 million military personnel were mobilized.
While the obsession of the generals is with moving the pushpins on a map, war has an entirely different impact on the soldiers, in the trenches.  As the characters recount, it was widely believed by common people that the "Great War" would be over within a period of months, if not sooner.  Everyone expected their loved ones to be home  by Christmas.  Then Pope Benedict XV suggested a temporary halt in fighting for the celebration of Christmas, in December 1914, but the warring countries refused to create any official cease-fire.  In fact, the generals declared penalties for what they considered amounted to fraternizing with the enemies.
During the four years that the world was at war, several deadly battles were fought.  Nearly 27,000 French troops were killed in a single day, in the Battle of the Frontiers, in August, 1914.  In the battle of Verdun in 1916, over one million soldiers were wounded or killed.  In the end, more than 9 million soldiers and over 7 million civilians died, as a result of this "Great War", making it one of the deadliest conflicts in history.  It is then all the more remarkable that in the midst of the most deadly period of fighting, there was a brief period of calm, friendship, and camaraderie, moments of hope, reflection, and humanity.
This was a one time event. All future attempts to halt the fighting were squashed by generals' threats of disciplinary action.  It is even more astonishing that this period of calm emerged spontaneously, in the trenches.  Those who were there, not to reason why, but to do and die, disobeyed orders, and for a brief shining period in history, humanity prevailed.   The soldiers declared their own truce; they began singing Christmas carols to each other across the enemy lines.  Entirely a different domino effect was observed, as soldiers in various places, crossed the no man's land, and shook hands with the enemy soldiers and exchanged presents of cigarettes, plum puddings and beef jerkey and sang carols.  Some soldiers even used this short period of "truce" to retrieve bodies of their comrades, from the no man's land, between the enemy battle lines.
It is the brilliance of Jeffrey Bracco and Kit Wilder, in how this remarkable historical event is captured and reproduced on stage, in "Truce: A Christmas Wish from the Great War".  After deep research and from various documents and anecdotes, Bracco and Wilder put together the script.  Ron Gasparinetti created the scenic design to conjure up images of the long ago war, Jane Lambert provided the costume design and Nick Kumamoto provided lighting and video projection to keep the time and place real.  George Psarras composed music from popular WWI songs.  (One popular song "pack up your troubles in your old kit bag" was one of the biggest hits of the Great War time).
This is truly a must-watch play of this theater season, and it beautifully captures the spirit of the holiday season.   Truce will be running at CityLights Theater in San Jose, through December 21, 2014.  For tickets, go to www.cltc.org .
In the aftermath of the #FergusonDecision, this respite is exactly what we need.  Let us call "truce" and renew commitment to create conditions of