"Guilty" is a Hindi Bollywood movie directed by Ruchi Narain and written by Ruchi Narain, Kanika Dhillon and Atika Chohan. Released in 2020, it focuses on the events that transpired at the peak of the #MeToo movement, in 2018.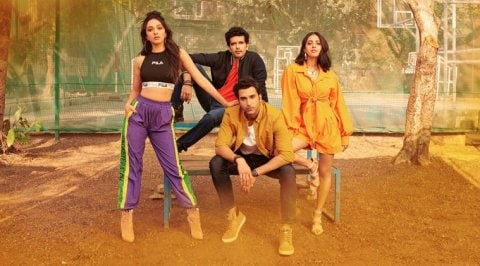 Nanki (Kiara Advani) writes lyrics for a band in which her boyfriend, VJ Pratap Singh (Gurfateh Singh Pirzada) is the lead singer. While the upper class, English speaking hot couple inspire jealousy and admiration from their classmates, Tanu (Akanksha Ranjan Kapoor), a Hindi speaking girl from Dhanbad, who openly hits on VJ, then accuses him of raping her as his friends watched on. The accusation comes via a tweet that leads to a social media storm with appropriate hashtags.
As is often the case in Indian society, everyone gets involved with half baked partisan opinions and judgments. The college students are divided; with many accusing Tanu for her flirtatious come-ons and revealing clothing, while others stand by her and participate in protests in her defense. Same is true in VJ's case and he also has support of his politically connected parents, powerful politicians and socialites.
At no point, has the film lost sight of the fact that this is a complex matter. Even as you get manipulated into judging the characters and as the story begins to unravel you change sides several times, you also begin to realize how nuanced gender power issues are. You grapple with issues such as, should a girl be  judged for being flirtatious, accused of inviting unwanted sex; could she have sex with someone she craves and then cry rape; can an upper class young man who has the attention of hottest girl on campus force himself on any other girl, could he have had  consensual sex and then be accused of rape for profit and attention; could these issues be quashed with money and pressure? 
The film focuses on the crucial subject matter, very pertinent in Indian society and it certainly brings forth some key issues into the forefront like this is a subject matter for the society to tackle, instead of putting entire responsibility on women and slut-shaming or blaming women for clothing choices, and treating women with paternalistic condescending advice on how to protect themselves. However, as much of the movie focuses on he said, she said narrative, it does not move the dialog forward with confidence. While it covers the intellectual and moral basis of arguments, it does so with some trepidation, not with authority. 
Despite some of its flaws, Guilty inspires discussion on an extremely pertinent subject, deeply interwoven with culturally prescribed gender roles. I rate the movie 4.2 on a scale of 1 to 5, with 5 being excellent.