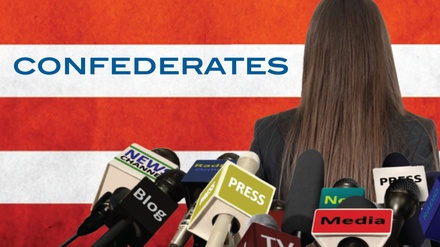 If you are a young professional working in a highly competitive field of media where few people make it to noticeable level of achievement and you get once in a lifetime kind of an opportunity to advance your career, would you take it?  Imagine it conflicting with some of your moral principles and could harm the reputation of a young girl who engaged in a thoughtless action. But you seriously believe that if you don't take this opportunity then someone else will take it and they may use it with much less compassion than you.  And yet, the vulnerable girl puts faith in you and requests you to not use the opportunity and yet agrees to sit down and give you a story and you feel that to be a good balanced response to the situation, except for your boss who is breathing down your neck to use the opportunity in its entirety, for a scoop of a lifetime. Now what would you do?
The play, "Confederates" by playwright Suzanne Bradbeer,at Theatreworks www.theatreworks.org featurs a high stakes political drama. It shows the critical role of the media in shaping the political discourse and the choices that people arrive at that would affect generations.  When Will (Richard Prioleau), an idealistic and ambitious young reporter on an assignment to cover presidential primaries, uncovers a story concerning an upcoming presidential candidate's daughter, Maddie (Jessica Lynn Carroll), he faces a dilemma.  In the short attention span world of catchy headlines, the scoop would establish his reputation as a serious journalist and while his immediate boss Stephanie (Tasha Lawrence) is insistent and desires to be a part of the scoop, his boss's boss is adamant that the story goes out immediately, without a moment's delay. But this same short attention span world would perhaps never forget an innocent mistake of a young girl.  At a more serious level, the story can change the course of nation's history.
The dilemma is wrapped up and nakedly presented in the context of another serious issue, the significance of symbolism. You can make some egregious errors donning wrong gear at a wrong event, as a few SF Giants fans recently found out the hard way and got the crap kicked out of them for wearing Giants hats, in a Dodgers game, in LA.  On the other hand, symbols convey a lot, as we saw recently when Trump campaign put out Hillary's picture with what looked like a star of David stamped on it. The symbol used by Hitler to force Jews to sew it over their clothing as identification mark, carries deep and painful reminders.
This play puts a human face on the world of symbolism creating an opportunity to consider the intent of the user versus the impact of the use of symbols.  Some negative symbols may be considered positive by others.  Some symbols may be innocently used and may not carry much meaning for the user or may not carry much meaning at the time but could forever impact the reputation of the user.  During this highly contested election season, this play raises many thought-provoking questions and provides some serious space for soul searching.  .
Kudos to Theatreworks Artistic Director, Robert Kelley for bringing timely and relevant productions on stage and creating space for bold conversations on highly relevant issues.  Randall K. Lum has effectively used the stage for multiple changes.  It shows how a quickly evolving situation in a time sensitive context is also occurring among several people envisioning the same situation from different perspectives and different contexts.  This is a very relevant and timely play during this pugnacious election season.  It will be running at Lucie Stern Theater in Palo Alto, till August 7, 2016.  For tickets, go to www.theatreworks.org .