Andrew Lippa's Off-Broadway musical sensation, based on the poem by Joseph Moncure March, currently being played at San Jose Stage, tells the story of Queenie (Allison F. Rich) and Burrs (Noel Anthony).  Directed by David Davalos, with music direction by Lauren Bevilacqua, The Wild Party captures the reckless tale of pleasure seeking and decadence that characterized the "roaring 20s", an age of bootleggers, flappers, talkies, and organized crime.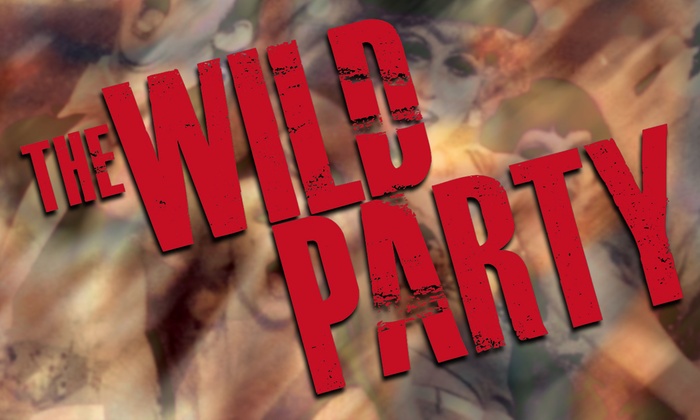 Prohibition!
They can shove it.
Revolution!
Rise above it.
My solution:
Time to covet
Love it before it's too late.
A cast of colorful characters gather for a night of sex, drugs, and all that jazz, at the home of Queenie and Burrs.  "Queenie was a blonde and her age stood still…….Her legs were meant to drive men mad, and she did".  The cruelty and meanness in Burrs attracted Quennie at first but after three years, life became boring; spark was gone but meanness remained.  To reignite the passion, she organizes a party, a wild party!  "What a night.  Cool Paradise turned hot!  We were having a wild, wild party.
Queenie and Burrs, the stars of Vaudeville, invited Madeline (Theresa Anne Swain) the lesbian, Mae (Allison Parker) the dimwit, Eddie (Mike Birr) the thug, Jackie (Noelani Neal) the dancer, Dolores (Adrienne Herro) the hooker, Oscar and Phil D'Armano (Keith Pinto and Jake Mahler) the gay lover brothers, and Nadine (Brittney Monroe) the minor.

Burrs and Queenie are conflicted lovers.  Burrs soon abandons gorgeous Queenie and makes the moves on the minor guest, Nadine. Queenie reprimands him and then seeks to ignite the spark with the number below.
Lock the door and stop complaining
Gather 'round and listen well
From now on we're entertaining
How to hotten up this hell.
Hold your mood and hold your bladder
Skip the food and stop the chatter
Can't you hear the pitter-patter?
We're not here to eat.
We came for the heat!
Let's raise the roof
Let's make a scene
Let's hop the gods of love
Will shine above
And show the way.
Her prayers are answered and soon they are joined by vivacious Kate (Courtney Hatcher) with her new friend Mr. Black (C J Blankenship).  Queenie is taken aback by the charm and kind attentions of Mr. Black, and throughout the party her feeling for Mr. Black continue to grow, as Burrs is now going green with envy, and is getting obsessed with re-owning Queenie.

Why do I need her so much?
This woman makes me cry
This woman makes me burn
This woman's eye can cut me to the core
Mr. Black falls in love with Queenie as his sympathy for her plight grows and he wants
Queenie to go away with him.

Poor child,
Poor child,
Beautiful and bruised.
Poor child,
Pure child,
Virginal and used.
And
What is it about her
That makes me want her?
What is it about her
That turns me pale?
Something in her smile
Something that I'll never understand
Her wild abandon.
Queenie is also very conflicted.  On one hand she feels incapable of leaving mean and cruel Burrs, but on the other hand she is very much attracted to attentive Mr. Black.  She pours out her heart over her conflicting feelings for Burrs to Mr. Black in the number below.
I know it's wrong
I know he's rough
I don't know what to do
But we've been through enough
I know it's time
And yet I play
Maybe I like it this way.
I see his pain
I hear his cry
He pulls me to the edge
But I don't ask him why
I understand
And I obey
Maybe I like it this way.
Meanwhile much is going on in the wild party.  Kate tries to seduce Burrs and distract him from his obsession with Queenie; Madeline hits on Nadine who is horrified at first but soon gets in the mood of the party; and others are all engaged in their sexual pursuits and snorting drugs.  Unfortunately, when the end comes, it is neither shocking, nor surprising, and does not feel like a climax, but seems like a natural end to a series of preceding disastrous events.  In many ways, the story feels like a fable where single minded pursuit of simple pleasures leads the participants to a natural and conclusive end.  To that extent, the story lacks the punch.  Also, it is an X rated show, for mature audience only.  And for all the mature content, it fails to deliver a substantial and engaging story line.
However, Randall King is an amazingly talented artistic director and Brett Blankenship and Carmichael "CJ" Blankenship's choreography is brilliant.  Along with brilliant direction and choreography, the superbly talented cast brings to life the Tony nominated composer and lyricist Lippa's creation.  If you wish to join "The Wild Party", the musical will run at The Stage www.thestage.org in San Jose, till July 24, 2016.