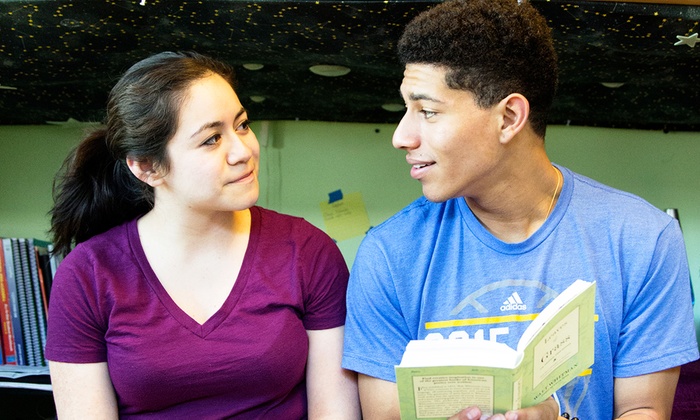 In the award winning, prolific playwright Lauren Gunderson's "I and You" production, that premiered at CityLights www.cltc.org in San Jose, CA, the story revolves around two high school seniors who come together to work on an assignment, on American poet, essayist, journalist, and humanist, Walt Whitman.  Ivette Deltoro and Davied Morales give a truly memorable performance as high school seniors, Caroline and Anthony.  As they begin the project by quoting Whitman, "I too am not a bit tamed, I too am untranslatable, I sound my barbaric yawp over the roofs of the world", the stage is set to embed the characters as part of nature, with deep everlasting essence, yet to be realized connections, and indomitable strength.  
Anthony is an idealistic young man who says he needs Caroline because "girls are supposed to like poems" and yet his own observations are deeply insightful.  Of Whitman, he says, "the way he writes is like the words float off the page".  Caroline appears to be an irreverent teenager who alternates between throwing grumpy tantrums, in her room where she has cloistered herself, and obsessively maintaining her connection to the virtual world, through texts and social media.  They quote Whitman's "I celebrate myself", just as we learn that Caroline is in need of a new liver, without which she faces a certain death.  Caroline asserts, Whitman's "genius must be shared".
Direction by Noelle GM Gibbs is flawless and special kudos for set and lightening to Ron Gasparinetti and Nick Kumamoto for incredible set that keeps you focused.  The teens argue about the ending of the project, Anthony saying, "ending is not the most important part, it's boring", and Caroline asserts "it's not the awful thing, it's just a thing".  There are funny moments and lots of laughter mixed with tender stuff.  Anthony introduces Caroline to jazz and she wonders if he is for real, this kid who "likes jazz and has feelings".  
As the pair delves deeper into Whitman's work, the personal significance to their lives becomes even more apparent.  While subtle allusions and symbolic references to death abound, Whitman has flipped around the common assertion that it's lucky to be born and has accepted death as just as lucky and valid part in the grand scheme of things.  "Has any one supposed it lucky to be born?  I hasten to inform him or her it is just as lucky to die, and I know it."
The major plot twist that comes quite unexpectedly at the end is at first shocking but as you reflect upon it, it fits in beautifully in the grand scheme of Whitman's perception of the mystery of the universe, where everything and everyone is connected.

"I celebrate myself,
And what I assume you shall assume,
For every atom belonging to me as good as belongs to you."
"I bequeath myself to the dirt to grow from the grass I love,
If you want me again look for me under your bootsoles.
You will hardly know who I am or what I mean,
But I shall be good health to you nevertheless,
And filter and fibre your blood."
This is a tender, poignant, insightful, and "not to miss play" in the bay area, of this theater season.  The play not only tackles mortality and bridges the divide between life and death, but also traverses racial and gender divide.  The poetic beauty and mystery of life unravels seamlessly, where "all goes onward and outward", where nothing is out of place, where "everything leads…. forward", even death.   For tickets, please go to www.cltc.org .